Return to Headlines
CMSD open house lets West Side residents see, react to options for facilities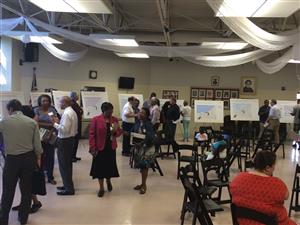 CMSD NEWS BUREAU
6/4/2014
Three West Side neighborhoods will get overdue attention if proposed CMSD construction projects become reality, Councilman Matt Zone told the audience at a District open house Wednesday.
The open house at the Cudell Recreation Center was the fourth in a series of 14 the District will use to finalize a master facilities plan. (See schedule of open houses and details of facilities proposals below.) The Detroit Shoreway, Cudell and Edgewater areas form one of 12 clusters used to group possible construction and renovation projects.
"Quite frankly, our cluster hasn't seen its fair share of investment by CMSD," Zone told about 50 people who came to ask questions and express their opinions. "But we are slated to get a lot of love."
The area could see construction of up to three elementary schools under the scenarios, or options, presented last month. In addition, a new high school could be built on the site of Max S. Hayes High School, after the career-technical school moves to a new building in another part of the West Side next year. CMSD also could swap the Max Hayes property for land owned by the city.
The five-year plan, which is subject to approval by the Board of Education, would complete a building replacement and renovation program begun more than a decade ago. It would continue work after state money that has typically covered two-thirds of the cost of construction and renovation runs out.
To pay for new projects, the Board would, in effect, ask voters to extend property-tax payments they agreed to when they passed Issue 14 in 2001. The current levy will drop significantly in January 2015.
Mark DiDonato lives close to Watterson-Lake School, which could be closed under the plan and merged with a new Waverly School. DiDonato, 38, said he supports closing Watterson-Lake and vacating the Max Hayes site, believing that both hold potential for housing development.
"The near West Side is a growing community," he said. "You're close to downtown, you're close to the lake."
Several Waverly teachers showed up and joined in a photograph with two teachers from Watterson-Lake. Debbie Gregory, a special-education teacher at Waverly, said she would welcome the chance to work alongside Watterson-Lake staff in a new building.
"We're talking about renaming the school Waverly Lake," she said. "That would be awesome to get together. I believe in teamwork."
Another open house, for the Glenville, University and Fairfax areas, will be held at 5:30 p.m. Thursday at Glenville High School. It will be the third session this week.
A good crowd also turned out Tuesday at the Harvard Community Services Center to review options for the Lee-Miles area.
For two hours, residents discussed scenarios and much more with key CMSD officials, including Chief Executive Officer Eric Gordon, Chief Operating Officer Patrick Zohn, Chief Academic Officer Michelle Pierre-Farid and others.
Ward 1 Councilman Councilman Terrell Pruitt told his constituents: "CMSD is in the midst of a transformation, and we're all part of the process."
"These are generational decisions – decisions that will last for the next 40 years," he said. "These decisions you will help make will have a major impact on our community."
There were as many opinions as people at the Harvard Community Services Center, it seemed.
Rose Simmons came to look over the revised plan with other members of the Joanne Community Street Club, a neighborhood group that volunteers at nearby Adlai Stevenson School.
While she said her interest was less about buildings and more about building a fire under parents in her neighborhood, she said she was glad to see the District asking its constituents for opinions on how to move forward.
Pat Brown came for different reasons, jotting down her thoughts on an oversized comment poster on the wall: "Environmental education. Trades/special education. Green job skills. Parent healthy cooking classes."
Though her particular emphasis is on environmental education because she trains people for green jobs as her profession, she said later that she is also concerned, overall, for the future of CMSD students.
"This is important to me because I'm concerned about the future of education in our community," she said. "We're talking about our future leaders and how we prepare them to be successful adults."
Another man came to say that he wanted to see a career-technical school in the far East Side community – one to balance Max Hayes on the West Side.
The open houses follow a previous round of 14 community sessions, a survey that drew 900 responses and a telephone poll of 2,700 voters. The District also consulted City Council members and religious and philanthropic leaders.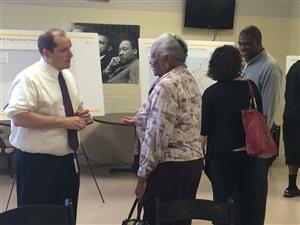 Gordon has said the revised plan will place more emphasis than ever on what the community wants, and he reminded the crowd Tuesday that input from previous sessions has already made a very real difference in the District's planning.
"We have already changed the scenarios from meetings in clusters we have had, based on the feedback," he said.
"This is by no means a done recommendation," he added. "But this is a key part of the process, so then I can go back to the board and say that after many, many ways of trying to capture feedback, this is what we believe is the best for working with every community in our neighborhoods."
One scenario in Lee-Miles proposes a land swap with the city that would consolidate three buildings – John F. Kennedy High School, Whitney M. Young Leadership Academy and Charles W. Eliot PreK-8 School – in new buildings on a campus covering part of Frederick Douglass Park.
The proposal would also free up property for housing development and expansion of the Lee-Harvard Shopping Center.
The districtwide scenarios, released last week, suggest building 19 schools, while closing four or five and relocating or replacing several others. Planners honored the public's wishes to keep closings to a minimum and spare high schools altogether.
The District is trying to maximize efficiency, save on operating expenses and respond to declining enrollment while also ensuring quality school options in every neighborhood -- a promise central to
The Cleveland Plan,
CMSD's state-approved blueprint for reform.
Facilities planners took into account enrollment patterns and population trends and tried to complement private development and public amenities like parks, recreation center and libraries. Gordon ordered that the building plan be flexible so the District could downsize if enrollment continues to shrink and accommodate growth if academic reform reverses the trend.
The board could vote on a final plan June 24, but would have until Aug. 6 to place tax issues on the November ballot.
Over time, the tax issues would raise $200 million. Gordon said the amount includes money to finish the job started with Issue 14, maintain schools and, where possible, build features like auditoriums and athletic fields that the community wants but the state would not fund.
PDF downloads
Draft Cluster Scenarios
(Note: The scenarios presented are possible draft scenarios. No final decisions have been made.)