Return to Headlines
Clark trip enriches cultural understanding
CMSD NEWS BUREAU
6/30/2014
For Sandra Rivera, nothing is better than taking science facts, geography maps, history stories and cultural context out of the school textbook and giving them new life in reality.
Rivera, a bilingual paraprofessional at Clark K-8 School on Cleveland's West Side, grew up in Puerto Rico. She has been back to the home island plenty of times and embraces her native culture, sometimes sharing it with interested students among the diverse ethnicity a school where nearly half of the students are Hispanic, according to state figures.
But even Rivera wasn't quite prepared for the difference a school trip to Puerto Rico this past school year would make for the students, staff who went along and even some of the families with students in the school.
"When I'm teaching, I'm always looking for ways to make it more real for them," Rivera said. "To be able to actually take them there and show them what could just be in a book was very valuable."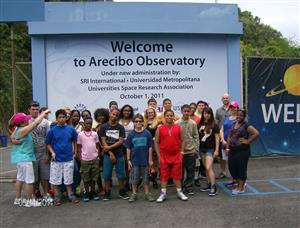 The May 12-16 trip through Contemporary Tours was organized primarily by Rivera. She, Principal Amanda Rodriguez and three other adults – fifth-grade teacher Deanna Adkins, school secretary Tami Basford and intervention specialist David Bidinost – accompanied 18 students.
The school used about a third of a $100,000 grant awarded in 2012 by Target and "The Ellen DeGeneres Show" after the school was nominated by a viewer and then selected among 48 schools and two districts in 31 states to receive grants.
"It covered everything, but we were also bargain hunters because we wanted to stretch the money as far as possible," she said. "In the end, the trip cost about
$1,600 a person,
but everyone covered their own personal expenses."
In less than five days in Puerto Rico, the Clark students and staff had a whirlwind experience, seeing:
San Juan, the oldest city "under the U.S. flag,"according to officials

La Fortaleza, the oldest governor's mansion in the Western Hemisphere

El Castillo San Felipe del Morro or Morro Castle.

The El Yunque Rain Forest and Luquillo Beach

The Cueva del Indio, a cave on the shores of the Atlantic Ocean where petroglyphs are found on the walls, and Camuy Caves.

The Arecibo Osbservatory, home to one of the world's most powerful radar-radio telescopes, notably featured in the 1997 movie "Contact."

Phosphorescent Bay (by kayak and by boat)

Ponce, the second largest city in Puerto Rico, where they visited the Museum of Puerto Rican Music and the Tibe Indigenous Center.
Rodriguez said the students who made the trip were selected not only based on their academic performance, attendance, overall improvement and whether they were role models for other Clark students.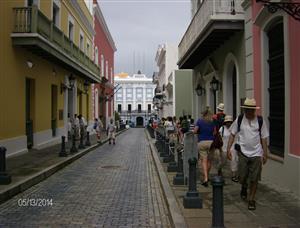 "Social-emotional learning was built into the experience because we believe it gave them new information to better understand their peers, their community and even their own culture and families," she said.
Rodriguez said the students also learned new team-building skills and life skills. "Most hadn't even been on an airplane before, so they learned a lot in that respect, too," she said.
Rodriguez said she is committed to another school trip – likely to Puerto Rico or another Spanish-speaking country – in the next year or so, but this time it will require raising more money to cover the costs.
"Absolutely – I will do it," she said. "It's just been so valuable for the students and the staff, especially because we have such a diverse student population here.
"It exceeded my expectations. It was an incredible experience, really, just from listening to the casual conversations among the students in talking about the things they learned, the things they're bringing back to their school."
She said her goal for her staff was equally important.
"I wanted them to build relationships and expose them to the culture of many of the customers we serve – the students and their families," she said. "The more we can relate to and embrace the cultures around us, or our families, the tighter our relationship will be."
Adkins said those "genuine conversations about what they were learning" stuck with her, but said she also benefitted from being forced to use more of her mostly dormant Spanish.
"It's helping me now to better talk to my students and their families," she said.
Basford, a 16-year Clark employee, said she is able to "better understand all of the students here and their parents, too. I even can relate to different parts of the island when parents tell me where they were originally from."
Rivera said it more succinctly: "We became a family."
A handful of students were back at the school recently, though some were preparing for high school.
"For me, the most amazing part was seeing the glowing organisms in the water" at Phosphorescent Bay, said Luis Josues Melendez, who will be an eighth-grader next year at Clark. His parents came from Puerto Rico.
Shilynn Hess, who will be a freshman at Rhodes High next year, said the trip opened his eyes up to diverse cultures. He said that his own background is German, Irish, Swedish, Italian and Native American but that he learned much about Puerto Rican culture on the trip.
He also liked Phospherescent Bay: "It was like, you put your hand in the water to try to touch a fish and they light up light a flashlight," he said.
Johnnesha Johnson, who said she might attend Garrett Morgan School of Science next year as a freshman, said the trip opened her eyes to other cultures.
"You think that it's just a small island and that they won't have anything there like we do in the United States," she said. "But then you get there and you see that they have more things, more stores, than we do in some places and that it is very similar at times, and very different at other times."
Other students making the trip were: Alexis Rosado, Brittany Garrett, Brayan Santos, Chasity Nguyen, Sabrina Singh, Jetssaika Medina, Angel Williams, Terry Sutton III, Hector Alamo, Erica Greiner, Brandon Yontosh, Ivory Eichelsderfer, Steven Cancinos, Demarco Lobaugh, and Juniel Nieves.