Return to Headlines
CMSD student goes to White House to read poem celebrating her Hispanic heritage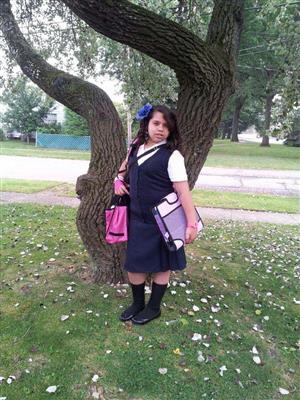 CMSD News Bureau
7/30/2014

An 11-year-old Buhrer Dual Language School student was invited to the White House this spring after her poem "Three Countries in a Heart" was selected by judges from "America Scores," a national soccer team which encourages children in grades 3-5 to live a healthy lifestyle through sports.
Rosemary Gramajo was one of eight young student-athletes invited by President Obama to come to Washington D.C. in March. She read her poem, which talks about her own American upbringing while also celebrating her mother's Puerto Rican heritage and her father's Guatemalan heritage.
It reads in part:
"So right here it is me saying/Thank you to God/ Because of him/ I have three countries today in a heart."
Her trip and poetry were featured in the magazine Greater Cleveland
Vocero Latino, where you can read the poem in its entirety.
America Scores
is a national non-profit organization that serves more than 8,000 students at more than 150 schools in 14 cities, including Cleveland, New York, Boston, Chicago and San Francisco.
"Our mission is to inspire urban youth to lead healthy lives, be engaged students, and have the confidence and character to make a difference in the world," its website states "We achieve this mission through daily after school and summer programming which combines soccer, poetry and service-learning. "
The Vocero Latino story reported that her father, Kenide Gramajo said that the "poem that has touched the hearts of many people and made me feel very proud of her. Not all children have the opportunity Rosemary has had, not even the Americans, and is an honor for me that my daughter has done that."