Return to Headlines
Volunteers beautify grounds at Harvey Rice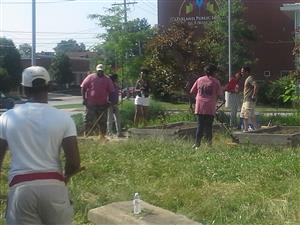 CMSD NEWS BUREAU
7/17/2104
The CMSD
"wraparound" philosophy
looks great on paper: Galvanize the community and envelope the District's lowest performing schools in a shared commitment to academic improvement.
It looks even better in person.
Dozens of volunteers descended on
Harvey Rice PreK-8 School
July 12 to pull weeds, turn over flower beds, plant flowers and help create a new, more inviting green space around the school and a library on East 116th Street in Cleveland.
It was a simple act, really: Aahalf-day of sweaty yard work that some might argue is only tangentially related to academic performance.
Don't suggest that to Tanese Horton of The Centers for Families and Children, which is the lead agency at Harvey Rice and coordinates services in the wraparound initiative.
"This is part of something much bigger, something that will draw statewide and eventually national attention when it turns around these schools," Horton said, drawing a parallel between the transformation of the city's public schools and Cleveland's recent success in securing the 2016 Republican National Convention and the return of Cavaliers basketball star LeBron James.
"It's going to flourish," she said. "It makes too much sense not to. It takes a little money, but even more, it takes a committed group of people working toward a common goal. And that's what we have here at Harvey Rice and I think around the District."
The CMSD wraparound initiative began with 17 schools last December and expanded when the District identified 10 more "
Investment Schools
" earlier this year. In each case, lead outside agencies are brought in to organize social, academic and recreation programs designed to help students succeed. That means 27 schools, about a third of the school district's total, are under the plan.
"We are not going to solve this 40,000 kids at a time," Chief Executive Officer Eric Gordon said in March
at a City Club discussion of wraparound schools
, "but we can solve this problem 400 kids times 100 at a time." The 40,000 was a reference to the District's total enrollment.
Horton, who came from a background of student recruitment and family engagement at George Washington and Cleveland State universities, said that since coming on in February, she has established an advisory committee that includes community leaders, teachers, the principal, representatives from the library, nearby St. Luke's campus, the Boys and Girls Clubs and even a neighboring charter school.
Horton said the community support around the school is enhanced because of a campus setting at Shaker Boulevard and East 116th Street, where the former St. Luke's Hospital is being transformed into senior housing.
She said she considers
the wraparound method to be "a new way of doing school."
"This is a new way of propelling students forward, but also the communities, because they want the school to do better, and when it does, it's good for the community, too," she said. "It's really a win-win, isn't it?"