Return to Headlines
Youth summit, school fair draws hundreds of CMSD families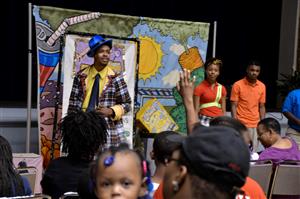 CMSD NEWS BUREAU
8/2/2014
Hundreds of CMSD families came downtown Saturday to take that distinct turn from the ease of summer vacation toward a new school year.
Cleveland Mayor Frank G. Jackson's eighth annual Youth Summit and CMSD Back to School Fair was held from 9-1 (with breakfast before and lunch after) at Public Auditorium.
The event, a collaborative effort between the city and the school district, is designed to get families ready for the school year. Parents and students attended workshops on everything from understanding obesity and healthy eating habits to literacy programs.
John Robinson, director of education for Houston's Urban League, spoke to a packed house at one of the midmorning sessions, reminding parents, "It's not about you, but it's all about you – what you do to get your child ready for reading, ready for school and ready for success."
Robinson, who oversees Houston's award winning National Urban League banner program, "Project Ready Post-Secondary College Access Programs," was also the morning keynote speaker and
presented at a CMSD teacher institute earlier in the week
.
The theme of the summit and back-to-school fair was "Conduct, Courage and Character" and volunteers sported T-shirts promoting that message.
Participants who attended two workshops qualified to receive school supplies.
While most CMSD schools open Aug. 13, four year-round high schools -- MC2STEM, E3agle Academy, PACT (Problem-based Academy of Critical Thinking) and the Cleveland High School for Digital Arts –
started their year last Monday
.
Some other schools are starting Aug. 18, but parents, students or caregivers should click
here
or call their schools to confirm start dates and times.