Return to Headlines
CMSD students head back to class
CMSD NEWS BUREAU
8/13/2014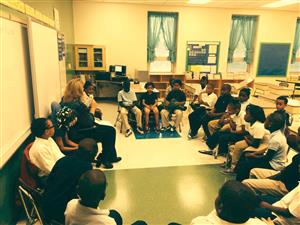 Ashley Turner was surprised to learn that her daughter had to return from summer break in mid-August but was hardly annoyed. In fact, her only wish was that the 6 ½-hour school day was longer.
Turner waited with 7-year-old Shayona on Wednesday in the Harvey Rice PreK-8 School cafeteria as the second-grader and other students were summoned to join their teachers. Turner said the early end to vacation was welcome and could be enhanced by a day that ended at 4 p.m. instead of 2:30.
"This younger generation, they need more learning," she said.
Most of CMSD's 100 schools got a record-early start Wednesday. Four year-round high schools began their calendars July 28 and two high schools at the John Hay Campus returned Monday; 14 others go back at the beginning of next week.
Across the District, schools are getting preliminaries out of the way so they can begin preparing for tougher state assessments. A glimpse into buildings showed:
Students at John Adams High School were introduced to a tighter dress code that requires them to wear school-color maroon polo shirts or blouses with tan or khaki pants or knee-length shorts or skirts. Principal Damon Homes met with ninth-graders in the cafeteria, stressing a need for responsibility, focus and pursuit of an overriding goal: graduation.

Luis Munoz Marin Principal Jeffery Keruski returned to his daily ritual of personally greeting each of the school's students. He was joined by other staff, some welcoming the school's bilingual population in Spanish.

Cleveland School of the Arts students responded enthusiastically to alumni who sang, danced and recited poetry at an opening convocation. The school, housed in a former middle school near East 107th Street and Superior Avenue, is to return to University Circle and a new building in 2015.

Collinwood High School students gathered for an assembly to hear about the goals, rules and culture they are expected to adhere to this year. At Oliver H. Perry, an elementary school in the neighborhood, new Principal Sh'Annon Caldwelll spoke of increasing parental involvement.
"The true goal this year is to get better at what's been working and implement some things that can propel us to where we want to go," she said.
Harvey Rice, at East 116th Street and Martin Luther King Dr., also rolled out the welcome mat Wednesday, with staff outside to hug and greet studuents.
The school has added a paraprofessional who will work in a computer lab and help students get ready for new computer-based assessments. Principal Yvette Brown said she hired five faculty, four from outside the District, as part of new budgeting authority called for in
The Cleveland Plan,
CMSD's
state-approved blueprint for reform.
Harvey Rice is among 26 District
"wraparound" schools,
with a lead agency and site coordinator who help arrange customized community support services.
Brown and her staff are also partnering with other agencies based on a campus that includes Harvey Rice, the St. Luke's Foundation, a Cleveland Public Library branch, a Boys and Girls Club, senior housing and the Intergenerational School.
She said Harvey Rice and the Intergenerational charter school will organize a volunteer patrol to keep watch over children while they are in the area. The idea is not only to promote safety but to "build some positive connections with students."
At Robert H. Jamison PreK-8 School, at East 146th Street and Harvard Avenue, teachers could be heard briefing older students on proper behavior in line, procedure for fire drills, state tests and necessary school supplies.
Kindergarten enrollment continued to rise, climbing from 35 to 42 in recent days and heading toward a manageable cap of 50 – two classes of 25 – that Principal Sharon Cooper wants to impose. A dozen parents of new kindergartners toured classrooms with interactive Smart Boards.
Robert H. Jamison was among an initial group of 17 wraparound schools named last November, and Cooper is looking for bigger things this year. The lead agency, the Cleveland Playhouse, will or already has helped provide ceramics equipment, lunch and recess supervision and theater tickets for parents, staff and students.
Cooper plans to offer incentives to boost attendance among staff and students. She said she proceeded cautiously with her
new budgeting authority
, mindful of the accountability that comes with the power.
"We never had to worry about whether the bills were paid," said Cooper, referring to concerns formerly left to the central office. "Now, with that on you, you have to make sure."
Chief Executive Officer Eric Gordon said the earlier start to school will
create a more natural flow
to the school year, for example, ending the second grading period at the start of winter break.
Ramond – with a short "a" – took the mid-August return in stride. The Harvey Rice seventh-grader said he was ready Wednesday to get on with studies that he hopes will take him to CMSD's selective John Hay Campus and a career as a football player or doctor.
"I wanted school to start," he said. "I like school."