Return to Headlines
Digital arts school celebrates opening (video)
CMSD NEWS BUREAU
9/9/2014
The Cleveland High School for Digital Arts has been open for innovative education since late July, but on Monday morning, the school opened its doors in downtown Cleveland a little wider to show off a little bit.
Visitors to the school, housed on the second floor of the same Lakeside Avenue building as SuccessTech Academy, took tours led by students and listened to educators and administrators talk about how the first six weeks have unfolded and their hopes for an even brighter future.
Students gathered in small groups before and after the presentation, each with a small laptop in front of them, as they mapped out their day and their week, choosing what courses to attend with the guidance of instructor/coaches.
"We believe students need to make more choices for themselves," Principal John Buzzard told students, supporters and media. "By giving them those choices, we allow the students to develop and mature and eventually move out into the world and be ready for college and career and the life choices they will make."
Buzzard said the school represents "a new dimension in education" because it is "both deep and thoughtful, as well as hands on."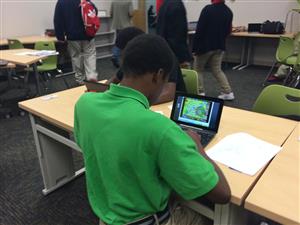 "Ultimately, we expect students to take many paths away (here)," he said, suggesting that some may go on to be professional game designers or film directors or studio technicians. "But some may end up in medicine or law or education. We believe that the skills that students learn through this kind of project-based learning and critical thinking allows them to succeed in whatever they choose to do."
The digital-arts school, conceived and launched with help from the
Center for Arts-Inspired Learning
, formerly Young Audiences, is made up of its inaugural class of about 100 ninth-graders but expects to add a new freshman class each year until it becomes a full high school.
"This is
The Cleveland Plan,
" said District CEO Eric Gordon, citing CMSD's state-approved blueprint for reform that calls for offering year-round options like the new digital arts schools. "Ours is a 'both, and' strategy: Open new schools to create more opportunity for our kids and at the same time take action to invest in and correct those schools that are not yet meeting our goals."
State Rep. Bill Patmon told the students that they could be the next great inventors, following Ohioans Thomas Edison and the Wright Brothers or Cleveland native Garrett Morgan, who invented the traffic light and has a CMSD school named in his honor.
"Hard work is 95 percent of it," he said. "Genius? The other 5 percent. "If you work hard, you work really hard, and if there is a genius in there -- it's coming out."
Merideth Turner, a representative from U.S. Sen. Sherrod Brown's office, and Cleveland Councilman Zack Reed, both whom attended CMSD schools, also both spoke. Turner complimented several of the students who led her on a tour for their poise and maturity anbdReed challenged District parents to support their students.
"If we are going to continue to move this city forward, move this region forward, education plays a key component in it," Reed said. "The only way that we're all going to be successful is if our parents continue to be our genuine partners."
Student Makayla Taylor said the arrangement at Digital Arts has helped her learn at her own pace and focus on a possible career in the recording arts.
"My whole family is involved in music, but I wanted to learn even more about that part of the music field here," she said.
Nearby, three boys sat around a single laptop and compared notes on the characters they had created.
Character development has been the theme for the first grading period, both for core subjects like English and the study of digital arts. Instructors had guided students into writing "text stories" of their proposed video games to develop literary patterns -- long before introducing any fancy graphics, teacher Elizabeth Keegan said.
Several teachers spoke, assuring parents that the various disciplines like game design and film writing were being connected to traditional subjects like math and science.
But they and Buzzard also reminded their visitors that Digital Arts is also a very different school.
"What are we trying to accomplish? We want to provide students with powerful and meaningful learning experiences that will impact them throughout their lives," Buzzard said. "We believe that digital arts is a particularly amazing experience and an amazing space for students to learn."