Return to Headlines
CMSD report card shows record graduation rate, upward trends in key areas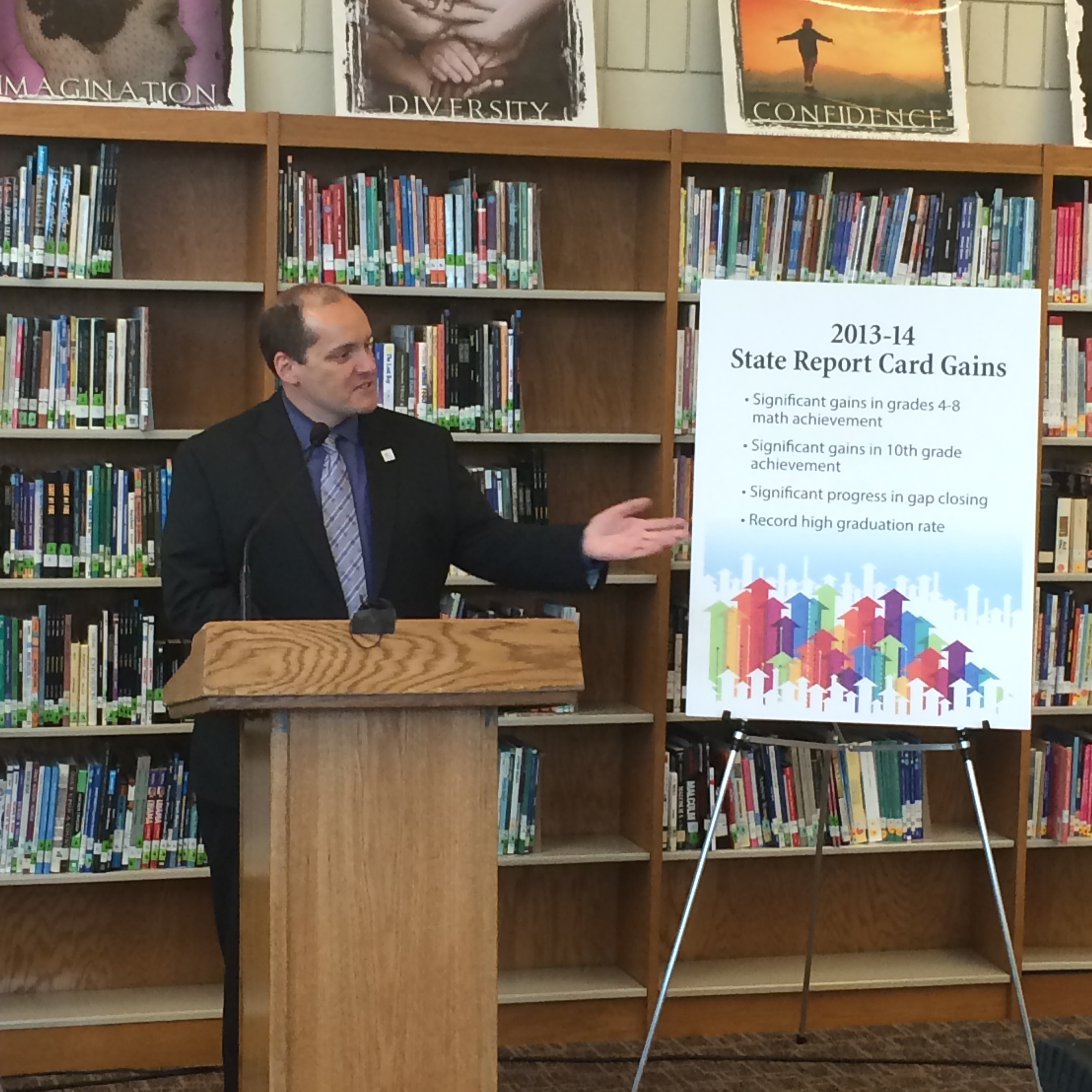 CMSD NEWS BUREAU
9/12/2014
CMSD's latest state report card does not give much to celebrate yet, but shows encouraging signs that aggressive reform initiatives are working.
The District's high school graduation rate has continued to rise and reached a record high 64.3 percent in 2012-13, an increase of 5 percentage points from the previous year. That's a 12.1 point gain since Eric Gordon was named chief executive officer three years ago.
The report card shows scores on 24 tests spread across eight grades. Proficiency increased on 15 of those tests, climbing by as much as 5.8 points, and remained steady on two. Proficiency dropped on seven tests, but the decreases typically totaled less than 2 points.
Nearly 7 percent of students qualified for the top ranking of "advanced," the most since Gordon was appointed CEO. The number designated as "accelerated," the second-highest category, also ticked upward while the number of those classified as "limited," the lowest category, decreased by about 2 points.
The performance index, a combined measure of all test scores, rose only slightly, but it was the third increase in the last four years. The performance index missed equaling a previous high, set in 2006, by a tenth of a percentage point.
Another promising sign that intensive supports for CMSD's lowest performing students are working was that students in special education moved from F to C in "value added," the state's measure of whether students made the progress that should be expected in a year. The lowest 20 percent of students also maintained a "C" in the "value added" measure. A "C" indicates that students are meeting expectations.
Third grade proficiency rates on Ohio report cards this year do not reflect the number of students who complied with the state's new Third Grade Guarantee. Through intensive intervention and alternative tests accepted by the state, 86 percent of CMSD students ultimately complied and earned promotion to fourth grade, compared with only 29 percent who met the criteria in October 2013.
Gordon made it clear at a news conference this morning that the District has far to go.
"It's not where we need to be, but there are signs that after one year of putting the tools in place, we are steady and making progress," he said.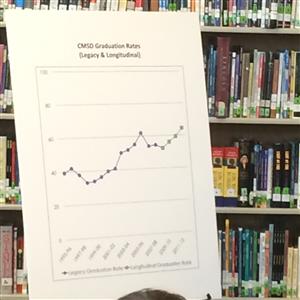 The CEO has repeatedly referred to the 2013-14 school year as a year of "disruption" that shook up the status quo and brought new ways of conducting business.
A landmark collective bargaining agreement reduced the weight of seniority. A new teacher evaluation system was introduced, with performance-based pay and job security based more on results. And "student-based budgeting," based on enrollment, shifted spending decisions, hiring and accountability to individual schools and their communities.
The first 13 Investment Schools were targeted for special corrective action to raise low performance and report card data shows upward trends in several.
One of the Investment Schools, Collinwood, used student data to guide instruction and raised its performance index by four points. The school's graduation rate climbed almost 10 points.
John Adams High School, also an Investment School and the location for today's news conference, raised its performance index by nearly two points, while four of the 10 K-8 Investment Schools also saw gains. Robinson G. Jones School raised its value-added mark from a D to C.
As outlined in
The Cleveland Plan,
the first leg of CMSD's Investment Schools' two- or three-year journey was about changing culture and changing mindsets. That meant establishing a safe, respectful learning climate and increasing parental and community engagement.
"The cultural shifts so apparent when walking into our school buildings are not reflected in report card data," said Chief Academic Officer Michelle Pierre-Farid. "But many of the improvements we are seeing in the data are directly related to the changes implemented in the schools."
At the other end of the spectrum, many high-performing schools failed to meet expectations, the CEO said.
"To meet our value-added measure, schools that already perform at a higher level must not hold steady, but must continue to show growth and improvements," Gordon said. "We must ensure our high performing schools and our programs for gifted and talented students are not overlooked as we work to elevate achievement across the district."
Gordon said his message to school leaders at every level, including high-performing schools, is that with the tools fully in place, they must do even better this year.
"We know they can and should. We will be monitoring those schools closely."
But there also was good news for some high-performing schools. Campus International raised its value-added grade from a B to an A, as did the Douglas MacArthur Girls' Leadership Academy. Two other single-gender schools, Valley View for boys and Warner for girls, each climbed from a C to an A.
All three high schools at the John Hay Campus maintained A ratings on the "Indicators Met" and "Graduation Rate" measures.
Among other schools, John F. Kennedy and Glenville high schools showed gains in proficiency on all five graduation tests, some in double digits. Max S. Hayes High School improved reading proficiency by 13 points.
Clark, Buhrer and Scranton schools maintained grades of A for value-added while educating large dual-language, Hispanic enrollments.
Harvey Rice School raised its value-added grade from C to B. Mary M. Bethune School's value-added grade jumped from an F to a C.
"The Cleveland community has given CMSD four years to show significant progress on
The Cleveland Plan
," said Gordon. "The data from our first year of implementation shows both forward momentum and how much work yet remains to be done."
"There are 787 days remaining to keep our promise," he said.