Return to Headlines
Fathers' Walk draws hundreds to CMSD schools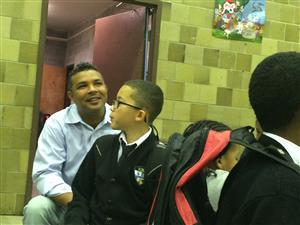 CMSD NEWS BUREAU
9/18/2014
Fathers from across the city (as well as grandfathers, uncles, brothers and caregivers, both male and female) took to the streets and sidewalks Thursday morning to walk CMSD scholars to their schools.
Some took off an hour or so from work and others simply repeated what they do daily, but by the hundreds they took part in some way in the annual Fathers' Walk, sponsored by the
Cuyahoga County Fatherhood Initiativ
e and the
Healthy Fathering Collaborative of Greater Cleveland.
One father even came to his son's school from outside the country.
Arvil Cummings can probably lay claim to the longest drive to meet his son for a morning walk and 8 a.m. breakfast at the school: He came down from Canada to be with his 11-year-old son for the annual Father's Walk at Kenneth W. Clement Boys' Leadership Academy. (See photo, above)
"It's important to let him know today, and as often as I can, how important it is to go to school," said Cummings, who said he left home about 2 a.m. to be at the school by 7:45 or so. "Just because it did not work out with his mother and I doesn't mean that we should not agree on the schooling. I am very glad to be here today."
Cummings joined more than 50 others in the cafeteria for a breakfast provided by Principal Jacky Brown.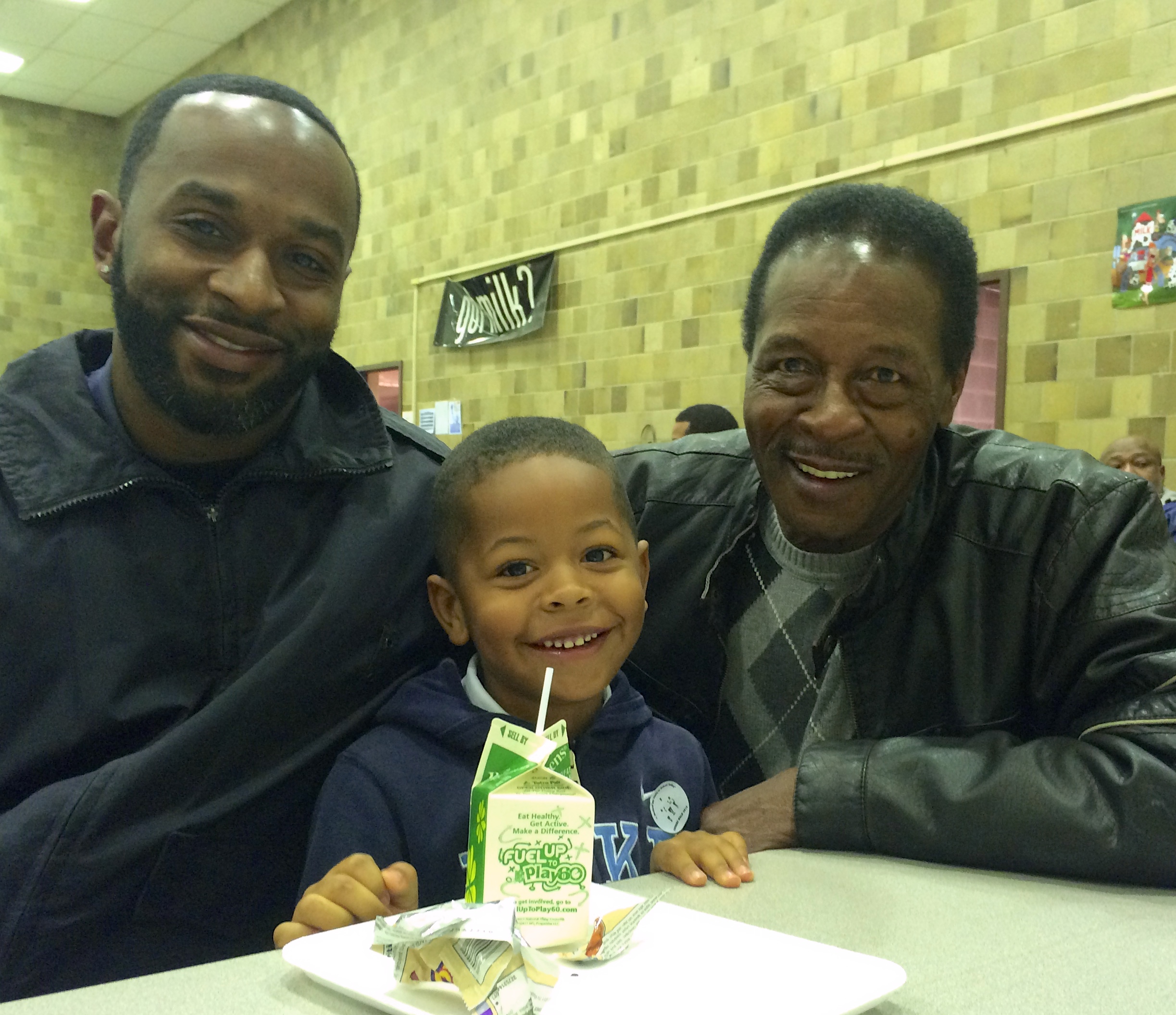 Kenneth W. Clement was also the site for a three-generation breakfast (see photo, right).
School security guard Demeris Bell and his 5-year-old son were joined by Melvin Rox, the boy's grandfather on his mother's side.
"It's great for me every day, because I get to see him in school, outside of his normal life and interacting with other kids," Demeris Bell said. "To have his grandfather here today is even better."
Members of the fraternity Omega Psi Phi were also outside the school, shaking hands, giving hugs and walking young men into the school who may not have had a father or someone else to bring them in on Thursday.
"This is a fraternity that began in 1911, and we're committed to this city and its young people and the schools," said James Wingo, head of a "Fatherhood Initiative" committee with the fraternity. "We wanted to be here this morning for the young men and to support the good work that the schools do and the fathers that are doing a great job."
Across town at Clara Westropp PreK-8 School on the West Side, dozens of dads and others also enjoyed a complimentary breakfast spread.
"We had a great, great turnout," said Principal Francie Watson. "There are a lot of caring fathers and caregivers in our school."
The countywide initiative stresses the important role of fathers and other men in the lives of students.
It encourages fathers to take the following pledge:
• I am responsible for the education of my child.
• I will encourage all children to do their best every day at school.
• I will speak to my child about the value of learning and the importance of reaching your potential.
• I will help with school work and review assignments for completion.
• I will praise my child when he/she does well in school.
• I will speak with my child's teachers and support them in educating my child.
• I will teach my child the value of education and the value of family.
• I will work with my child's mother or guardian to achieve the best academic and social outcomes for my child, even if I do not live with my child.