Return to Headlines
Turnout spikes at open houses
CMSD NEWS BUREAU
9/24/2014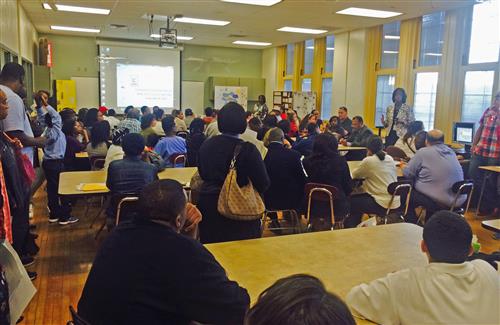 Parent involvement is off to a good start in the District, with attendance increasing nearly 26 percent at PreK-8 school open houses.
The schools reported attendance of 13,012 at open houses held the week of Sept. 7, compared with 10,343 last year. Attendance at high school open houses rose almost 9 percent, to 3,268.
A follow-up telephone survey of 1,198 participants found that more than three-fourths thought their children's PreK-8 school had a welcoming feel. Of 612 participants who went to high schools, 88 percent considered their schools to be welcoming.
At least three-fourths of the respondents at both levels said their children's teachers told them what the students will learn this year in all subjects.
Large numbers of parents and caregivers also reported receiving information that the schools distributed regarding budgeting, a master plan for building and maintaining schools, how federal funds are used and other topics.
The Cleveland Plan
, a reform blueprint written into state law, requires that all CMSD parents and caregivers have face-to-face contact with their children's schools by Dec. 15.
A large majority complied by the end of the school year
. The District has nearly 40,000 students.
Parents and caregivers will have another chance to visit schools when parent-teacher conferences are held on Tuesday, Oct. 21. Report cards will be handed out the same day.
Hours for the conferences, 12:30 to 7 p.m., have been extended for families' convenience. For further information, call your children's schools.