Return to Headlines
CMSD student studying in France under exchange program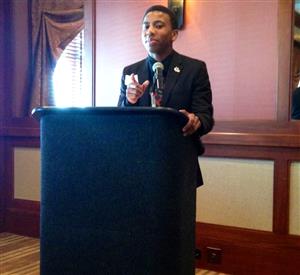 CMSD NEWS BUREAU
10/7/2014

John Adams High School senior Orlando Hopson will spend his senior year a very long way from Cleveland, Ohio.

Thanks to a scholarship from Rotary International, District 6630, Orlando has settled in at a host family's home in Tours, France, where he will take part in the Youth Exchange Study Program. Rotary and school officials said he is the first Cleveland Metropolitan School District student to earn an overseas Rotary exchange in at least 20 years.

Orlando will stay with several different host families during the school year and speak -- in French -- to as many as 20 different Rotary clubs there.
"His French is a little bumpy now, but he'll be fluent by the time he returns," said Rotary member Eileen R. Smotzer, an account rep and project manager for SP Mount Printing Co.
Smotzer said Orlando left for France on Aug. 25 and is with a family that lives in the French wine region. He has been entertaining his hosts by making them American cheeseburgers and playing basketball, and he also has gone kayaking and canoeing with their teenage children.
Smotzer raved about Hopson and the District's "Closing The Achievement Gap" program, which introduced him to the Rotary opportunity.
"CTAG kids are just extraordinary," she said. "They come to us as leaders, but then they also grow, we believe, from the mentoring they receive here. But Orlando was amazing, a superstar to begin with, incredibly engaging and smart."
CTAG is a federally funded intervention program that focuses on helping young men of color, particularly heading into and during the critical freshman year. The program aims to keep the students in school and on track for graduation.
Brian Simmons, who is the CTAG representative at John Adams, known as a "linkage coordinator," said Orlando stood out immediately as a student with ambition.

"I first met Orlando at our CTAG orientation meeting back in 2010," Simmons said. "He was very outspoken and inquisitive, which made it easy to identify his unique critical thinking and interpersonal communication skills."

Simmons said after he had heard about the Rotary Youth Exchange Student Program, he challenged Orlando to be different … to learn how to be a leader in a setting that did not allow television, video games, smart phones, or the internet."

"Orlando accepted the challenged and exceeded my expectation of his level of participation for the YES program," he said.

YES is a three-year program. Students start out as a "Novice Sailor," move up to a "Youth Chaperone" and then finally spend a year as an international exchange student. Smotzer said the program focuses on opportunities in the Great Lakes region.
"We start by bringing in nautical speakers, not only from the Navy and Coast Guard, but also private companies on the lakes like Great Lakes Towing and others," she said. "The kids start to understand the supply chain and other aspects of the economy of the Great Lakes."
A maritime leadership boot camp also focuses on water safety, seamanship, navigation and environmental issues on the lakes, she said.
Some of the students, including Orlando, were invited to spend a week on tall ships that came to Cleveland in 2013 for the Tall Ship Festival, hosted by Rotary.
"He fit right in, of course," Smotzer said. "If there ever was a student who 'gets it,' it's Orlando. We're so proud of him."