Return to Headlines
Veterans Day memorable for Mary M. Bethune students (video)
CMSD NEWS BUREAU
11/12/2014
Veterans Day 2014 became something special for CMSD scholars and educators at Mary McCleod Bethune PreK-8 School – and for the veterans they visited at the Louis Stokes Cleveland VA Medical Center.
The visit to the hospital by 20 of the school's students on Tuesday was put together by intervention specialist Kathleen Hatcher, who said the students brought the veterans toiletries and an appreciation for their service. That appreciation was clearly reciprocated.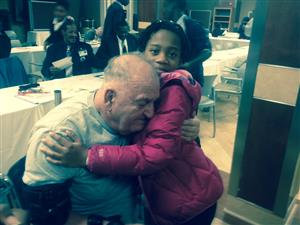 "The cards that the students made, were a big hit," she said in an email. "We actually had one World War II veteran start crying and hugging one of our students, who was as sweet and compassionate at she always is."
Hatcher said teacher Gabrielle Rivera worked with the students on the cards and Amy Ledford helped put together songs they performed. Other Mary McLeod Bethune staff who were involved were Jamie Saul, Maureen Leisinger, Casey Hatcher, Tonya Yarboro and Jonathan Ealy.
"There is no test … or anything else that can measure what these children learned today," Hatcher said. She said she and the other teachers at the school "wanted to start developing community service projects for the school to go along with the SEL (social and emotional learning) lessons we have been doing this year."
She said that VA officials asked for the students to return and that she will collect toiletries throughout the school year to take to the hospital.
"What a great partnership as well as a fabulous resource for our students to have," she said.