Return to Headlines
John Marshall Campus will be home to 3 small schools
CMSD NEWS BUREAU
11/17/2014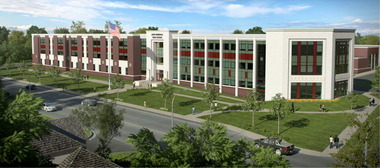 John Marshall High School will be reborn as three small schools underneath one roof when its new building opens next August.
A plan released last week pays homage to a "Lawyer Legacy" deeply rooted in the city's West Park neighborhood. Students will play together on sports teams and in the band, and the building-turned-campus will remain named for the fourth chief justice of the U.S. Supreme Court.
But the demands of the 21st Century are driving changes in the academic program.
An advisory committee representing the school and community first met slightly more than a year ago. The committee drafted design principles after reviewing data that included educational needs and gaps in offerings on the West Side.
A working group met weekly, starting in early September, to iron out the details. The group studied school models in the District and elsewhere, including Walter Payton College Prep in Chicago, and consulted with organizations experienced in school design.
The committee and the working group sought to create smaller environments within the building where every student can find a good fit and receive personal attention.
One of the small schools will specialize in information technology, another in engineering and yet another in business and civic leadership.
The working group chose the specialties based on research that indicates demand for the fields in Northeast Ohio. The areas of study also offer pathways to skilled, well-paying jobs, regardless of whether graduates immediately obtain a certificate, move on to career training or enroll at a university or college.
Like peers at some other CMSD schools, the students will not fail subjects but will stick with a course until mastering the material, even if that takes more than one academic year.
Other features will include hands-on, project-based learning, teamwork, development of critical-thinking skills and active partnerships with corporations, agencies and institutions.
"We are excited about the ability to offer multiple learning and career pathways on the John Marshall Campus," said Christine Fowler-Mack, CMSD's chief portfolio officer.
The Cleveland Plan
, a state-approved, customized blueprint for education reform, calls for offering a portfolio of options available to every student in the city.
"One of our primary goals, in addition to ensuring that the students are socially, emotionally and academically prepared for their futures -- not our past -- was to be able to offer a diverse set of school models such that every student can find a place," Fowler-Mack added. "This campus plan reflects a commitment to all students."
While ninth- and 10th-graders enter the new small schools, 11th- and 12th-graders will not be displaced as they complete their studies. The plan makes a commitment to the upper grades, calling for an intense focus that prepares students to graduate and move on to college and careers.
More groundwork remains before the schools open, including design of the curriculum and selection of staff. Students across the city can enroll at John Marshall, just as they do now, but Fowler-Mack said the District will follow a formula weighted in favor of those who live in the surrounding area.
Each of the small schools will have an advisory board to hold the District accountable and make sure the school stays true to its specialty.
"We don't want to start a school in name only," said committee and working group member Ann Mullin, senior program officer for education at the George Gund Foundation.
Several members of the advisory committee asked whether selecting one of the themed schools would restrict students' options for the future. Fowler-Mack said choosing a specialty in high school will not limit students' horizons as they pursue post-secondary studies or employment.
"I see K-12 education, in general, as giving kids a diverse set of formative experiences," she said. "We are not trying to lock kids in; they can make a different choice."
John Marshall junior Kevin Gramajo, who was part of both the advisory committee and the working group, said he favored staying with a single comprehensive high school. But he expressed confidence that students will be comfortable with the three choices and said many who are following the discussion seem particularly interested in engineering.
Gramajo was happy that the working group decided not to make an existing small school part of the campus. Classmates agree, he added.
"The idea of three small schools made by John Marshall for John Marshall, they like that," said Gramajo, who carries a 3.5-point cumulative average and hopes to work as a pharmacist after college.
Small high schools are not new in the District, nor is having such schools share space.
Three schools comprise the John Hay Campus, formerly John Hay High School, in University Circle, and E³agle Academy and PACT (Problem-based Academy of Critical Thinking), both launched this year, will eventually occupy John F. Kennedy.
But those schools started with the youngest students and a plan to expand over time.
The new John Marshall will bring together ninth-graders who have been housed at the former Nathaniel Hawthorne School and 10th- through 12th-graders who attended classes at the former Carl F. Shuler during construction. Combined, enrollment at the two buildings totals more than 1,100.
The new John Marshall Campus is among 41 construction and renovation projects that the District began after the gym roof collapsed at the former East High School 14 years ago. Issue 4, approved by voters on Nov. 4,
will allow construction
of 20 to 22 more schools and remodeling of 20 to 23.