Return to Headlines
Poinsettias galore: Annual Washington Park sale Dec. 11-12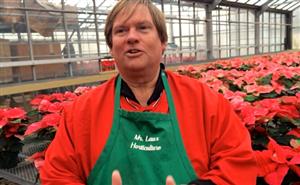 CMSD NEWS BUREAU
12/5/2014
Roughly 2,000 CMSD student-raised poinsettias -- a vibrant, leafy ocean of red, pink, green and mixed colors -- are lined up and ready to go at the greenhouses of the District's Washington Park Environmental Studies Academy.
Together, they make up the prettiest and most recognizable face on what has become a nearly 40-year tradition at the Cleveland high school: the holiday flower, wreath and centerpiece sale.
The school's open house and holiday sale will run from 8:30 a.m. to 6:30 p.m. on Thursday, Dec. 11 and 8:30 a.m. to 3:30 p.m. on Friday, Dec. 12 under cover of the school's 13,000-square-foot greenhouse at 3875 Washington Park in Cleveland.
Call 216-482-2670 or 216-482-2671 for more information. The school, which teaches plant and animal sciences, sits up against the Cleveland Metroparks' Washington Golf Course, just off the Fleet Avenue exit of Interstate 77, at the border of Cleveland and Newburgh Heights.
The holiday plant sale and a spring plant sale around Mothers' Day put Washington Park squarely in the public eye twice a year, but horticulture teacher Donald Laux (see photo, above) said year-round work goes into the sales. He said as many as 125 horticulture/plant science students and a handful of staff members are involved in the preparation and the sale.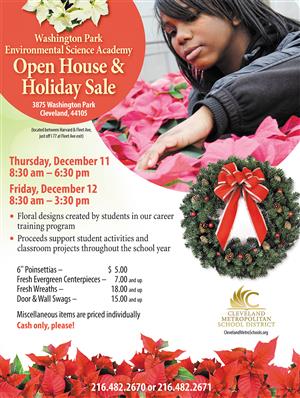 "The students start growing the poinsettias in July and work for the next five months watering, fertilizing and caring for each of the plants," Laux said. "Then, over the last few weeks, we begin the work on designing and creating the evergreen wreaths and centerpieces, so it's quite a project."
Laux said proceeds from the sale help pay for
Future Farmers of America
(now known only as FFA) field trips and other FFA activities at the school and for needed materials.
"FFA is an organization that now includes more urban students than rural students, so they don't emphasize the word 'farmer' as much anymore," Laux said.
"Sometimes our students are almost surprised that we are members because they'll say "We're not farmers!" and I'll say "Yes, you are. You are learning how to grow plants for beauty, food consumption and more.
"And you are growing things, growing a product that people are also very willing to buy."
Are they ever: CMSD employees and the public have jammed the Washington Park greenhouses during during sales in past years, quickly buying up the centerpieces, wreaths and door swags and picking through the larger supplies of holiday plants."