Return to Headlines
PRE4CLE to participate in White House summit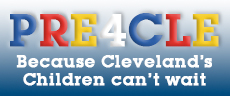 CMSD NEWS BUREAU
12/9/2014
PRE4CLE, a community network striving to make high-quality preschool available to as many Cleveland children as possible, will participate when the White House conducts a summit on early-childhood education Wednesday in Washington.
PRE4CLE
is a new partnership between CMSD and other high-quality providers. District Chief Executive Officer Eric Gordon will take part in the summit, as will PRE4CLE Director Katie Kelly and Marcia Egbert, the George Gund Foundation's senior program officer for human services.
The CEO will sit on a panel that will discuss public investment in preschool expansion. U.S. Secretary of Education Arne Duncan will moderate the discussion, which is scheduled from 8:35 a.m. to 9:25 a.m. The summit will run from 8:15 a.m. to 3 p.m.
To watch live, click here
.
The summit, hosted by President Obama, will bring together leaders of government, education, philanthropy and business, along with others who are trying to broaden access to high-quality early-childhood education. The president and others believe high-quality preschool is linked to future success in education and careers.
Julian Castro, U.S. secretary of Housing and Urban Development, praised PRE4CLE when he
visited Cleveland in late October
.
"America is watching Cleveland and communities like it that are taking bold steps in early childhood education," he said during a news conference at the Bingham Early Learning Center on Central Avenue.
Castro and Roberto Rodriguez, a special assistant to President Obama on education, were in Cleveland to build awareness in advance of the summit.
The two men also appeared at a private roundtable discussion at the Idea Center on Playhouse Square. The guest list included nearly 75 leaders from business, philanthropy and government.
Castro, who was named HUD secretary in July, led a preschool expansion as mayor of San Antonio.
CMSD and other high-quality providers linked hands this year in PRE4CLE. The network has already added 335 slots – 260 of those from the District – and seeks to create 2,000 by 2016.
Expanded prekindergarten is part of
The Cleveland Plan,
a state-approved blueprint for reform.
According to the Center on Urban Poverty at Case Western Reserve University, Cleveland had 3,530 seats in high-quality preschools last year, but only 2,857 were filled. That was for children ages 3 to 5. The city had more than 13,000 children in that age group.
Overseen by the Cleveland Early Childhood Compact, PRE4CLE markets programs that score well on the standards set by Ohio's Step Up to Quality program.
PRE4CLE will help preschools gain certification as high-quality providers and hopes to eventually assist families with paying for transportation and tuition, barriers that can prevent them from taking advantage of preschool. CMSD offers prekindergarten for free.
CMSD committed $2.5 million toward the $15 million that PRE4CLE projected it would need in its first year. The 260 seats that CMSD added this year raised the District's total by 25 percent, to 1,020.