Return to Headlines
Collinwood High student's original play performed this week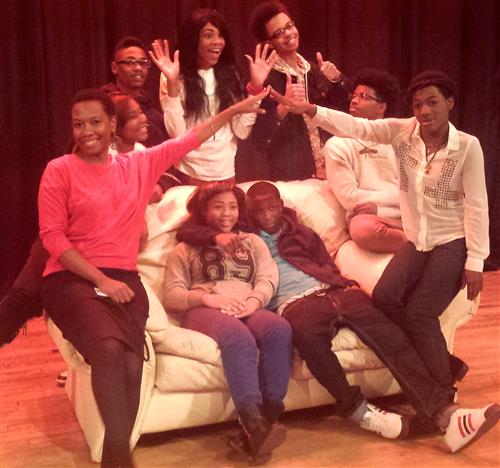 CMSD NEWS BUREAU
1/15/2015
Collinwood High School senior Johnathan Smith sure didn't mess around when he put his mind to writing a short play for his fellow Railroaders.
It took him about four weeks last fall to write "From a Mess to a Message," a nine-scene play that will be performed Thursday through Saturday at the high school auditorium on East 152nd Street in Cleveland.
But like many seemingly impromptu creative bursts, "From a Mess to a Message" had actually been in the works for a lot longer than that.
The play follows a modern African-American family dealing "with some of life's important issues, including sexual identity and unconditional love," said Johnathan, who is also the student ambassador for the
Gay, Lesbian & Straight Education Network.
The drama will be performed for the Collinwood student body at 1 p.m. Thursday and then for the public at 7 p.m. Friday and 5 p.m. Saturday at the school, 15210 St. Clair Avenue. Admission is free, but donations will be accepted at the door.
"It's really the story of an upper-class family that is suddenly dealing with a few issues and learning how to interact with each other and how not to judge someone for their flaws," Johnathan said.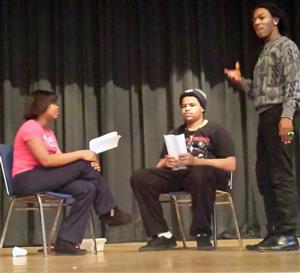 "I had been thinking about it for a long time, about a way to send a message to the community, to make a statement and to touch hearts through drama. My ultimate goal is really to push unconditional love. There are a lot of people out there who are hurting and alone.
"In the end, the message is to never judge someone by who you assume that they are until you get to know who they are. What matters is love."
Johnathan said he wants to go to school for business management but also dreams of running a non-profit to help "teens abandoned by their parents."
The cast includes students Kallynn Coleman, Deandre Watkins, Robert Moore, Timothy Griffin, Charlie Eppinger, Tahlia Eskridge, Talbert Williams and Antonaie Taylor.‬
Johnathan is co-directing the play with Coyan Smith (no relation), whose company (Coyan DS Entertainment, LLC) partners with Collinwood High School and Wraparound Coordinator Amy Carlson for dramatic presentations.
"Initially, I wanted to start a Drama Club here, but mostly we've been busy with this production," Coyan Smith said, adding that about 15 students have been involved in the production, from acting to helping with the lighting, sound, costumes and sets.
"It's been both fulfilling and frustrating, but mostly fulfilling," she said. "Johnathan is an extremely talented director and writer and very easy to work with. We've had our challenges, though, some ups and downs with the students. We even had a few actors quit in the middle, but we're working it out."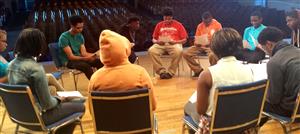 Coyan Smith is also a professional actor who has worked for The Academy of Dramatic Arts in New York City and the Karamu House in Cleveland, where she most recently was the production manager for "The Color Purple" and the musical "Leap of Faith."
"It's my first time working with teens," said Coyan Smith, the mother of two teenagers, ages 15 and 19. "I feel like I can learn from them and them from me, and I think the audience will learn a lot from this play about the youth of Collinwood and the kinds of things they might be going through."