Return to Headlines
Lincoln-West, MetroHealth host "Save A Life" tour (video)
CMSD NEWS BUREAU
1/16/2015
Dr. Anjay Khandelwal's message to juniors and seniors at Lincoln-West High School this week was succinct and severe.
"I don't want to see any of your faces in our ER," said the
MetroHealth critical care and burn surgeon.
"I don't want my team cutting your clothes off and putting tubes into you to keep you alive."
Dr. Khandelwal joined a pair of ER nurses at the West Side school on Thursday for a daylong program about distracted driving. The program is part of a tour by Save A Life, a nonprofit organization based in Grand Rapids, Mich.
"You are 17 times more likely to die in a traffic accident if you are drinking and driving or texting and driving," he told the students sitting in the rows of bleachers.
At one point, Dr. Khandelwal had 11 teens in the front row stand up before their classmates.
"Every day 11 teenagers die in a car crash," he said. "You don't want to be one of them."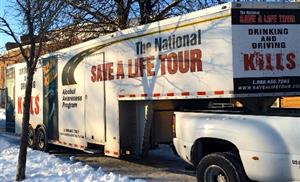 After a presentation from the doctor, nurses and Save A Life's Clay Martin, the students were invited to sign a pledge that they would not drive distracted. They also had a chance to "drive" simulators set up in the Lincoln-West gymnasium that approximated how dangerous it is to drive while inebriated or while texting.
Senior Daisy Soto was convinced.
"I signed the pledge because I don't want to be the one who hurts someone else while I'm driving," she said.
So was junior Djuma Brighton Mwenebatu, who said he sees many of his friends texting and driving.
"I think the teens here are taking it seriously," he said. "It's tempting, but no one should do it."
Others were not so easily swayed. One young man bragged that he had "beaten" both machines, managing not to crash while under the influence or while answering a text every half-minute or so on the second machine.
Martin said that's part of the challenge with reaching teenagers.
"We get all sorts of responses, from those who act like they don't care to the teens who are really moved by one of the stories in the video or who finally get it when they drive the simulator and can't control the car," he said.
Martin said other times it takes a while for the message to sink in. "We often also hear stories after the fact from maybe the math teacher who says that in the first 20 minutes of his class, some of the students began talking about what they learned here."
Save A Life travels the United States and 22 other countries to "put a spotlight on a really important choice being made while driving, which is so often around cell phones and alcohol," Martin said. He said the group stops mostly at high schools, colleges and military bases.
"Any time you can get a young person to stop and think about it and start a conversation, you've possibly helped them make a life-saving decision," he said.
The group was brought to the school by
MetroHealth a
s part of an ongoing partnership with Lincoln-West that began last year with the arrival of a mobile health clinic. The vehicle was parked outside Thursday on its weekly visit.