Return to Headlines
CMSD principal serves on Common Core panel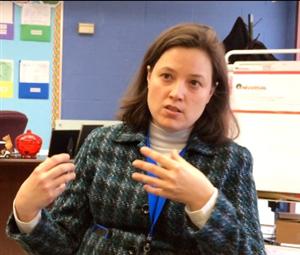 CMSD NEWS BUREAU
1/21/2015
Erin Frew, principal of CMSD's New Tech West High School, appeared Wednesday in an online panel discussion organized by the Alliance for Excellent Education, a nonprofit group that supports the
Common Core State Standards
.
(View the webinar.)
Frew (see file photo, at right) also appears, along with Karen Thompson, CMSD's deputy chief of curriculum and instruction, and New Tech teacher James Heffernan, in a Common Core video that the alliance released Wednesday.
(View the video.)
The Common Core standards, adopted by 43 states, the District of Columbia and four territories, are designed to promote critical thinking, bring consistency to education in the United States and help all students meet the expectations of colleges and employers. The National Governors Association and Council of Chief State School Officers led the initiative.
Advocates of the Common Core have refuted criticism, including suggestions that the federal government is in charge of the standards or that teachers have little leeway in instruction.
Frew appeared at the webinar with Henry Johnson, assistant superintendent for the Maryland State Department of Education, while Dewey Hensley, chief academic officer of the Jefferson County, Ky., schools, participated by phone. Alliance President Bob Wise moderated.
Frew said New Tech West has a large number of students who are English language learners or in special education. She said the school involves students in tracking their progress toward meeting the standards, so they understand the importance, and data shows they have achieved significant gains.
New Tech parents are more concerned about the intensity of achievement testing than the standards on which the tests are based, Frew said. She said once the parents understand the Common Core, "they tend to get on board and the resistance goes down."
CMSD was an early adopter of the standards.
In a briefing held last week
for state legislators from the Cleveland area, District Chief Executive Officer Eric Gordon said a lot of the opposition to the Common Core is based on misinformation.
"The Common Core is a rigorous set of standards," said Gordon, who testified last year against legislation that would have repealed the standards in Ohio. "It does not tell teachers how to teach. It tells teachers what students should know."