Return to Headlines
Thousands of CMSD students viewing 'Selma'
CMSD NEWS BUREAU
2/9/2015
Nearly 300 CMSD scholars – mostly young black men from a half-dozen schools -- were transported Monday morning from a theater in Cleveland to the historic civil rights events Alabama in 1965.
Their reaction to the film "Selma" was as diverse as the events portrayed in the biopic about the Rev. Dr. Martin Luther King and the historic march from Selma to Birmingham for African-American voters' rights.
Many watched in silent appreciation, while others said they were stunned by the open violence against blacks in the South in the time period. Many also said they felt anger on behalf of the civil rights protesters and toward the racist Alabama law enforcement officials portrayed in the film. Still others said they felt mostly pride at what King and others accomplished half a century ago.
The students, mostly from the District's Closing The Achievement Gap. or CTAG, program, were able to attend the 10 a.m. showing at Tower City with tickets provided by
U.S. Rep. Marcia Fudge
, who sent her entire staff to view the movie with the students. The CTAG program is aimed at lowering the dropout rate among primarily African-American ninth-graders.
CMSD also received a donation of 4,000 tickets this month from the
The Presidents' Council Foundation
for students at four high-performing high schools to see the movie at either Shaker Square or Tower City movie theaters through this Thursday. The tickets from the Cleveland-based non-profit were given to students at Cleveland School of the Arts, Washington Park Environmental Science Academy, MC²STEM and the three high schools on the John Hay campus.
A number of other schools in the city have also made field trips to see the film.
On January 28th Marion-Sterling middle school students
, for example, traveled to Shaker Square Cinema, a showing coordinated by school Site Coordinator Ashley Williams. Parents and some community partners also attended and participated in a lunch and discussion following the film, according to the Campus District web site.
Living through American history
On Monday, John Hairston, 11th District director for Fudge and a longtime former CMSD employee, addressed the students before and after the screening on behalf of the congresswoman.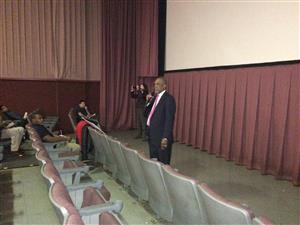 "I'm 72 years old and I lived through some of this, so I've really been looking forward to this," he said as CMSD students poured through the door and picked up their free popcorn and beverage.
"The one piece I want them to walk away with is that we have by law, by a humanity, the right to vote and that right came by the sacrifices of others. So they need to get out there and register to vote when they reach that age."
He said Fudge has been a leader in voter rights and that after seeing the movie said, "Buy the theater out and get these students there."
Earnest Harris, a "linkage coordinator" who works with CTAG students at James Ford Rhodes High, said he has also been able to relate to events in the movie. He said he was about 10 years old when he was recruited by organizers of fair housing marches in Chicago in the mid 1960s.
"Our job was to bring baseball gloves to catch the
rocks being thrown at the marchers,
at the protesters," he said. "We'd catch a rock, put it down on the ground and get ready to catch another one. That's the way it was, and these young men are getting an idea of how it was back then, of how those that came before them had to fight and to suffer."
Brian Simmons, linkage coordinator at John Adams, said he and teachers at the school had prepped the students for viewing the movie.
"We've asked the young men to think about what freedoms we have now that they didn't have then," Simmons said. "But more importantly, we've told them about how we gained those rights and the sacrifices that had to be made, the lives that were given, for us to have them today."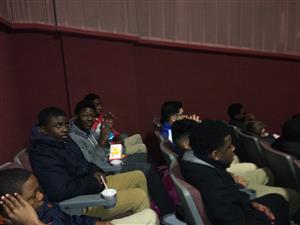 Student reactions varied
Antonio Brown, 18, a senior at Rhodes (in gray sweatshirt in photo, at right) said the movie surprised him because he expected it to be "just history" that would not easily connect with his life today.
"I think it will be about black people who struggled to accomplish something, and they succeeded," he said before the movie.
Afterward, he said it had made history come to life: "That was really real," he said. "They had it bad back then. They just beat on people."
The student audience reacted out loud at only a few points in the movie -- gasping a bit at the sudden and violent bombing of the 16th Street Baptist Church in Birmingham, Ala., early in the film, murmuring in apparent surprise when a white priest from Boston was killed by two thugs because he came to join King in Selma and then applauding when the two-hour film concluded.
But in the end, Brown said that he believes the civil rights movement succeeded. "I feel that I am free," he said. "I feel like I can do what I want today compared to how it was then."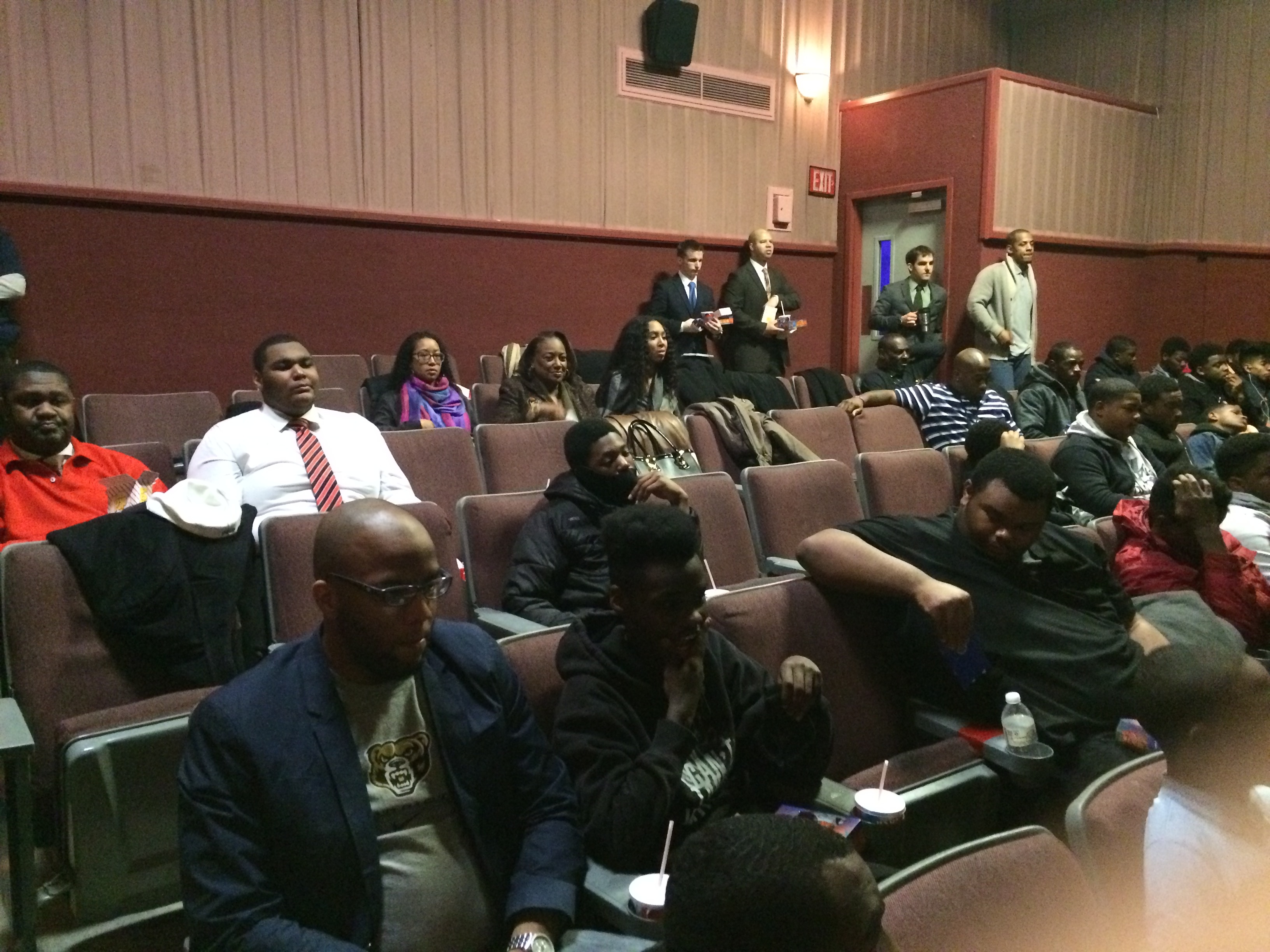 Ginn Academy junior Shawendel Wilson, 16, sat near the back, his white shirt and red tie standing out when the lights went up (see photo, at right). He had a different response after viewing the two-hour film.
"We might be able to vote, but we're not free – I'm not free," he said. "Even today, even though it's not the racism of the South, we're still segregated and they won't allow us to do certain things."
Before the film, Shawendel, 16, said he was mostly interested in "gaining knowledge" about how events unfolded during the civil rights movement in the 1960s.
"We just finished watching
'12 Years a Slave,'
so we've been talking about a lot of these issues, and it's really been on my mind a lot," he said.
He said he was not sure how the movie might have spurred him to take any actions of his own.
"I try to talk to my classmates, my brothers, my teammates about the knowledge that we've been given to make change," he said. "The difference between a rich man and a poor man is really knowledge, and that's what we have now."
'Selma For Students' initiative
Spreading knowledge of not only the march from Selma to Birmingham shown in the movie, but its part in the civil rights movement of the 1960s has been the general goal of the "Selma For Students" effort, said Nicole Bell, executive director of the Presidents' Council Foundation.
She said Cleveland was the 13th city nationwide to take the challenge to "make sure our kids are seeing this amazing movie and better understand how they got some of the opportunities they have now."
Bell said the Presidents Council paid for the tickets in advance and donated $10,000 toward the purchase but is raising money to cover the difference.
"We've lost the art of storytelling, of understanding through story what shapes our character, and I think this movie does that in a very honest and transparent way," she said. "It's important to know about the failures in the context of the greater accomplishment."
It's also important for today's students to know about even the basic narrative of the movement, said Belinda Prinz, district communications director for Fudge. She cited a
Southern Law Poverty Center study from 2014
that asserted that civil rights education remains "woefully inadequate" in the majority of U.S. states. Ohio did improve from an "F" to a "D" from 2011 to 2014, however, according to the study.
"It's so important for our students today to be aware of what came before, and that's why the congresswoman felt it was so important that they have a chance to see this film," she said.