Return to Headlines
Collinwood student play postponed; new date to be announced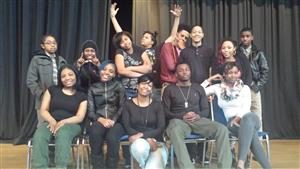 CMSD NEWS BUREAU
4/17/2015
NOTE: The original play "Choices" has been postponed and will not be presented this weekend. A new date will be announced shortly.
Collinwood High School students will star in the play "Choices" next week at the school auditorium on East 152nd Street.
The play will be shown to student Thursday afternoon and then to the public at 5 p.m. Saturday. "Choices" was written by the school's Drama Club instructor Coyan Smith, who co-directs the play along with student Johnathan Smith.
"Choices" is about gang and gun violence among young people, Coyan Smith said. (She is seated at center in the cast photo above).
"I wrote this play because I was tired of seeing our youth murder one another," she said. "I want the community, our youth and parents to stand up against gun and gang violence because our youth are dying at an alarming rate. I came up with the title 'Choices' because this play is all about choices. Life is all about choices, and making the wrong choices can change your life forever."
The main characters in the story are Jay and Danyale, a brother and sister who are raised by a hard-working single mother, she said.
"But things will suddenly change for the worst in the blink of an eye when Jay and Danyale make the wrong decisions," Smith said. "And those wrong decisions will change many lives forever."
Admission is free to the Saturday performance, but donations will be accepted at the door. The donations will go to the student actors and crew, Coyan Smith said.