Return to Headlines
Miles Park students get moving, school wins $5,000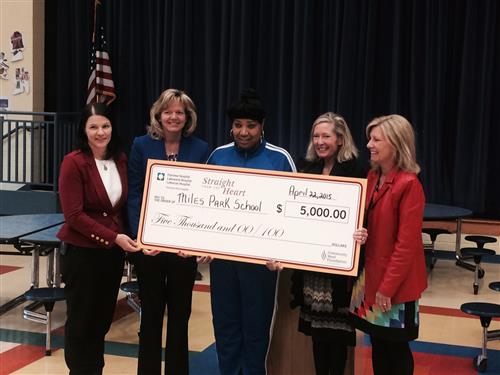 CMSD NEWS BUREAU
4/22/2015
Miles Park School students went the distance in March, winning $5,000 in a physical-fitness competition that measured how many steps they took and miles they traveled.
As a group, 39 students competing in a division for the fifth through eighth grades recorded more than 12 million "moves," took nearly 10 million steps and covered more than 5,500 miles. All of those numbers topped the field.
The competition was the latest of the cardio-related projects underwritten by Straight from the Heart, a fundraiser that involves the Cleveland Clinic; Fairview, Lakewood and Lutheran Hospitals; and the Community West Foundation.
Representatives of Straight from the Heart presented an oversized facsimile of a $5,000 check Wednesday at the school, located on East 93rd Street near Harvard Avenue. Students in a packed lunchroom were in awe after the dollar amount was announced.
Meg Leneghan, manager of cardiac rehabilitation at Fairview Hospital, noted that the 39 students who participated in the competition each walked or ran an average of 4.72 miles per day, 1.25 miles more than students at the second-place school.
"You blew the competition out of the water," she told the assembly.
Straight from the Heart focuses on a variety of projects. This year, leaders decided to include fighting child obesity and related health problems.
Miles Park physical-education teacher LaTrice Shields saw the contest as an opportunity to promote activity while incorporating technology in her classes. The students' moves and steps were measured on MOVbands that they wore during gym class and sometimes at home.
Thirty-eight schools expressed interest in divisions for the lower, middle or high school grades. The field was narrowed to 17 across the three levels, based on videos that students used as a plug for picking their schools.
Miles Park was one of six schools in the middle grades. Other CMSD schools that made the cut included Case and Harvey Rice in the middle grades and the Cleveland School of the Arts in the high school division.
Miles Park's video featured two fifth-graders, Racquel and E'lysha, performing a rap piece that can be found on YouTube under the title, "Miles Park on the Move."
(Watch the video here.)
The two rehearsed for their award-winning performance, which E'lysha said was completed in seven or eight takes. She said she did not need to be sold on the video's message.
"It's important to move," she said. "Don't just lay around."
Miles Park will spend part of the $5,000 on DanceDanceRevolution, an interactive video game that can be used for instruction and workouts, and to bring a yoga instructor to the school. Shields said the game equipment will be shared with other schools.