Return to Headlines
Mary B. Martin gets 2 Little Free Libraries (video)
CMSD NEWS BUREAU
4/24/2015
To foster literacy and a love of reading among students at CMSD's Mary B. Martin School, the
Little Free Library
network will make books available that the children can borrow whenever they want.
Little Free Libraries are boxes where users can pick up a book while leaving one behind, creating a continuous circulation loop. Two – one for prekindergarten through fourth grade, the other for fifth through eighth grades -- were dedicated Friday outside the school on Brookline Avenue, near East 84th Street and Chester Avenue.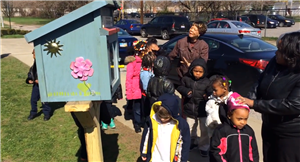 "This is our Little Free Library, say, 'Woo hoo,'" high-energy preschool teacher Tracy Reid told children in the younger grades as they crowded around what looked like a birdhouse mounted on top of a small pole.
"Any time you want a book, you can get a book," Reid said, drawing hearty cheers. "Any time you want a book, you can what?," she continued, with the students roaring in reply.
It was easy to tell that Reid is the mother of Madison, a third-grader whose enthusiasm for a similar library at CMSD's Wade Park School was
captured in a YouTube video
five months ago. The video, posted by WKYC-TV, has been viewed more than 131,000 times.
Mary B. Martin
is one of five sites in the neighborhood where Little Free Library's Cleveland affiliate, aided by a $15,000 grant that the Cleveland Public Library obtained from PNC, is committed to installing the boxes. Bolton School is also on the list.
Prison inmates in Grafton built one of the Mary B. Martin libraries. Tod Bol, who founded the global Little Free Library movement, donated the other.
Little Free Library has launched about 50 libraries in Cleveland, about 20 of those at CMSD schools. Most of the schools are Investment Schools, which the District has designated for intensive intervention in an effort to raise achievement.
Judy I. Payne, Little Free Library's Cleveland director, said the libraries at Mary B. Martin will help the school engage parents and the community. The community can support the Little Free Libraries by donating books that will add to an estimated 400 collected so far.
Payne said many of students do not have books at home to exchange, but Little Free Library will make sure the boxes remain stocked. The nonprofit
Fairfax Renaissance Development Corp.
helped install the boxes and will assist in replenishing the supply of books, she said.
"Our goal is to make sure there are books to read," she said.