Return to Headlines
John Marshall JROTC flies drone (video)
CMSD NEWS BUREAU
5/1/2015
The John Marshall JROTC Program just entered a new era: Late Friday morning, staff and students launched the program's new drone into clear blue skies above at Emery Park on West 130th Street.
"The Air Force made the offer and gave us about 24 hours to respond, and we jumped at it," said Sgt. Jennifer Shaw, an aerospace instructor at the high school who led the demonstration Friday with Maj. Michael Fortunato.
"This is the students' first chance to fly the drone, but there are so many things that we believe we can do with this, starting with using it for aerial filming of sporting events."
Shaw and Fortunato said the drone also would spark a number of educational discussions about the use of drones by government and private entities.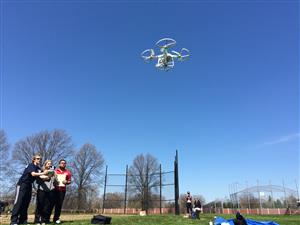 The drone demo followed the launching of mini rockets by JROTC students from a baseball field at the park.
"This is a big day for us because we get all of the different flights (groups) of students in JROTC at John Marshall and bring them all together for the first time to try out the rockets," Shaw said. "But even better, we get to try out the drone."
The $1,500 vehicle is run by a remote control that hooks into a iPhone app, Fortunato said. "It allows you to track it, to see what it sees and even better, when it gets too low on power, it automatically returns to you. That's pretty cool."