Return to Headlines
PRE4CLE adds 80 preschool seats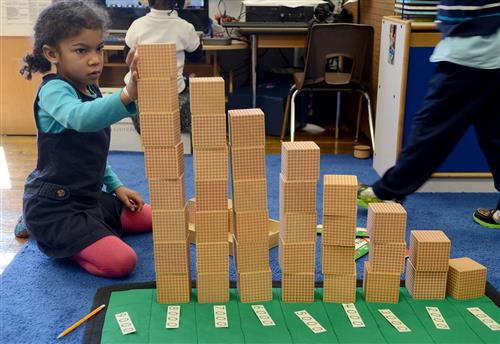 CMSD NEWS BUREAU
7/22/2015
The PRE4CLE network has awarded grants that will be used to add 80 high-quality preschool seats in parts of the city where demand is greatest.
PRE4CLE
, a partnership between CMSD and private providers, strives to make high-quality preschool available to as many of Cleveland's children as possible. High quality is defined as receiving three stars on the state's five-star system.
PRE4CLE grants totaling $120,000, or $30,000 each for four classrooms, will increase access in the Union-Miles, Buckeye-Shaker and Glenville neighborhoods. The money, which came from the Cuyahoga County
Invest in Children
program, will pay for start-up costs such as salaries and equipment.
The new sites will include two classrooms at the Oakwood Child Development Center, 9250 Miles Park Ave., and one classroom each at the Citizens Academy charter school, 10118 Hampden Road, and the Buckeye-Shaker Fundamentals Academy, 12500 Buckeye Road.
PRE4CLE was
launched last year
and now offers more than 4,700 high-quality seats at 90 sites, including 59 CMSD schools.
Supply will grow again this school year as CMSD adds 74 prekindergarten seats, bringing its total to 1,846. The expansion includes the addition of classrooms at Joseph M. Gallagher and Tremont Montessori Schools and a new preschool site, Marion C. Seltzer School.