Return to Headlines
"Guiding stars" point to progress, CEO says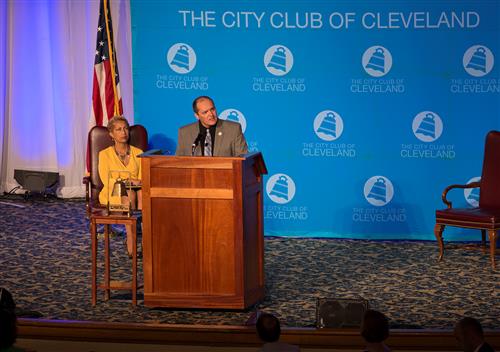 CMSD NEWS BUREAU
8/24/2015
CMSD is headed in the right direction, and you can tell by looking to the "guiding stars" that light the District's path, Chief Executive Officer Eric Gordon said Monday in his fifth annual State of the Schools address.
The question of whether
The Cleveland Plan
, a citywide education reform plan, is working has become complicated, Gordon told a packed ballroom at the Renaissance Cleveland Hotel. The state has given different exams in each of the last three years, changed standards, moved from classifications like Excellent and Academic Emergency to letter grades and delayed release of the latest report cards.
But he said the community can turn to indicators that include strong parent involvement, growth in third-grade reading scores, a larger number of children in "high performing" schools, an abundance of highly rated teachers, a record graduation rate and solid public approval ratings.
"Ladies and gentleman, achievement is up in the Cleveland Metropolitan School District, more kids are in better seats, graduation rates are increasing, trust is returning and we have the people and resources we need to continue the journey," Gordon said in the speech, hosted by the
City Club of Cleveland
. "
The Cleveland Plan
is working!"

A Great Lakes buff who is captivated by the region's ships and history of shipwrecks, Gordon referred metaphorically to these improvements and assets as guiding stars, which sailors once relied on to chart their courses.

Gordon traced a voyage unfolding under three clusters of stars – one illuminating strong voter support, better learning environments and an evolving workforce; another, growing public trust; and yet another, progress made in pursuit of academic achievement for all.
The trip began with voter approval of Issue 107, CMSD's first new operating levy in 16 years, in 2012.
The levy rescued the District from bankruptcy.Voters provided another push last year by overwhelmingly passing Issue 4, a $200 million bond issue that will allow the District to continue building and remodeling schools.

Along the way, Gordon pointed to other positive markers:

• CMSD hired 750 teachers in the last three years as a quarter of the teaching corps turned over, mostly because of retirements and other departures. Eighty-one percent of District teachers have earned ratings of "skilled" or "accomplished" under a rigorous new evaluation system.

• After two decades of decline, enrollment is up slightly this year and stands at 39,146, more than 3,000 above state estimates.

• Polling conducted earlier this year shows that seven in 10 residents rate the schools as fair or better and believe the District is headed in the right direction.

• 86 percent of last year's third-graders scored high enough on a state test to meet Ohio's Third Grade Reading Guarantee, required to earn promotion to fourth grade. That was up 60 points from the fall and bettered last year's impressive advancement, even though the state raised the passing score.
•
PRE4CLE
, a partnership between CMSD and private providers, is making high-quality preschool available to more children. In 2013, only 2,800 of 17,000 3- and 4-year-olds in Cleveland attended high-quality preschools, but since then the number has risen 52 percent, to more than 4,300.

• The District's graduation rate stands at a record 64.3 percent, an increase of 12.1 points since 2011, and is on course to surpass 71 percent in 2017. The current rate is higher than those in Washington, D.C., Atlanta, Milwaukee, Denver and several other major cities.

• President Obama has twice singled out Cleveland for praise, once for rallying as a community behind early-childhood education and again for improvement in the District's graduation rate.

The CEO closed by recognizing guests who help put faces on the quest: a recent graduate with 12 years of perfect attendance, new principals and teachers who were attracted to The Cleveland Plan and the chance to make a difference, several highly rated teachers, staff who exemplify "above-and-beyond" community engagement, former charter school students who chose some of the District's growing high school options. Gordon then fielded a number of questions, many from students concerned about activities, course offerings and facilities.
A City Year volunteer asked what she and colleagues could tell students concerned about safety in the community and the schools. The CEO pointed to pending development of a
Safe Routes to School plan
and a sharp decrease in serious incidents at buildings.
"Our schools are safe places to be," he said.

CMSD is indeed making progress, moving past layoffs and other turmoil and digging into the challenge of raising achievement, Councilman Terrell Pruitt said after taking in the speech. He said the city and District now face "better problems" like how to ease traffic congestion caused when parents pick up students at one of the schools in his ward.

"I'd much rather have a problem with too many parents blocking a street than not enough parents being involved or other issues," said Pruitt, who represents part of southeast Cleveland. "I do believe we are going in the right direction."

Victor Ruiz, executive director of the Hispanic education group Esperanza, said he wants to hear more about individual schools but concurs with the big-picture assessment.

"The improvements are real," he said.