Return to Headlines
Rotary Club puts teens' voices at the forefront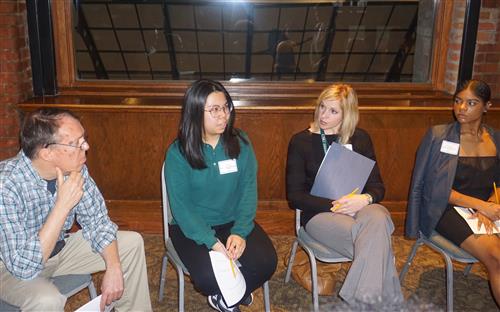 CMSD high school students led the conversation as civic and business leaders listened at the 40th Annual Thesmacher High School Recognition Day and New Generations Conference.
CMSD NEWS BUREAU
3/2/2018
Teens across the nation are fearlessly speaking out about issues that matter to them, and Cleveland is no different.
In fact, the Rotary Club of Cleveland has an annual event dedicated to just that: The Thesmacher High School Recognition Day and New Generations Conference, which was held this week at Windows on the River. The club invited the top performing seniors from each of the District's high schools and local civic and business leaders to honor the students' achievements and give them a forum for their most pressing concerns.
The event, now in its 40th year, was filled with messages of praise and motivation from speakers, including Cuyahoga County Juvenile Court Judge Michael J. Ryan, CMSD Chief of Staff Karen Thompson and local radio personality Jae the Gospel Kidd. For many students, the best part came when the more than 150 students broke out into small groups and it was the adults' turn to listen to them.
Mohammed, a senior at the Cleveland School of Architecture and Design, was part of a group that brought up concerns about mental health and depression -- struggles that the group agreed many teens face. His group also delved into the complex but pertinent topic of gun violence in the wake of a mass shooting in a Florida high school that left 17 people dead.
"We had people from all different schools in all different areas of Cleveland, so it was interesting to hear everyone's different viewpoint," Mohammed said.
During the conversation, one student said that while he sympathizes with the victims in Florida and other mass shootings, he couldn't help but notice a difference in media coverage when compared to the gun violence that constantly plagues his own neighborhood.
Another member of that group, an MC²STEM High School student named Maurice, echoed this point.
"We talked about how if you grew up in an urban neighborhood and you're exposed to crime, violence and people passing away often, when those events happened, you were kind of numb to it," Maurice said. "But I still feel for the people who went through it. There's still a crisis."
Jerry Jarzabek is a Rotary Club member who helped facilitate this discussion. Though he's been part of the New Generations Conference for 10 years, he continues to be amazed at the depth and intelligence of students.
"They have a deep understanding of what's going on both in their communities and the world around them," Jarzabek said. "It's impressive how broadly they can discuss different issues."
Both Mohammed and Maurice said they were pleasantly surprised by the unfiltered nature of the conference and the willingness of the adults to engage with them.
As someone who is active in his community and frequently attends civic forums, Maurice said this event was unique in its emphasis on youth voice.
"This is not what I expected," Maurice said. "It felt really good. I didn't really think, at first, that the adults were going to understand or really listen. But they did. I think more talks like this today would be very beneficial."
Mohammed said the New Generations Conference brought him out of his shell in a way that he didn't expect.
"Usually at events like these, I would just give my two cents and sit back, but here, everyone was contributing and there was no judging," Mohammed said.
He said he hopes the conversations will lead to a better future for younger CMSD students. The Rotary Club is on the same page, as they produce a report each year summarizing the top issues students identify. The report is distributed to District CEO Eric Gordon, Cleveland Mayor Frank Jackson, Cleveland City Council and other community leaders.
"These are the future leaders and some of the best and the brightest," Jarzabek said. "When we can find out from them firsthand what they're thinking about, and we as the Rotary Club have the right connections to get that message across to folks that can make a difference, it makes a pretty good combination."
The club invited seniors who have high GPAs and notable involvement in their schools, churches or the community. Principals and guidance counselors nominated each of the students based on those criteria.
The following students were invited to the Rotary event:
Cleveland Early College High School: Arianna Jackson, Ariel Matute, Gabrielle DeMarco
Cleveland School of Architecture & Design: Shiqi Ma, Noni J. Akintunde, Bakari L. Ballard, Mohammed Khaled, Kayla Brewer, Donayja M. Harris
Cleveland School of Science & Medicine: Ikenna Okoro, Hasan Abdel-Nabi, Sierra Jones, Amanda Kong, Maria Hetzel, Jhonatan Ewunetie
Cleveland School of the Arts: Kayla Thomas, Marissa Arnold, Jashira Idemoto, LaNia Calhoun, Ari' Jackson, Alice Hardy-Evans, Adam X. Warner
Design Lab Early College High School: Tyler Raye Bankhead, Alexus Workman, Vanessa Rivs, Dayjah Bostick, Anthony Hodges, Sarah Barnard
East Tech High School: Sampson Deal, Kalil Wells,, Ja'Tayia Warner, Tommy McIver, Shaleia Howard, Donald King III
Facing History New Tech High School: Erica Beran, Layce Simbeck, Damien Rodriguez, Keaira Jacobs, Gloria Richards-Mosley
Garrett Morgan High School: Ariel McLain, Mark-Leo Annorzie, Kyaw Lwin, Rehanna Hussain, Lucia Garcia, Payja Brooks
Ginn Academy: Trevor James, Robert Higgins, Alex Dixson, Raeshawn Hall, Antonio Pope
Glenville High School: Sabrina Nelson, Carnita Williams, JoNathan Blade, Jaden Taylor, Christiana Wallace, Gile Nzitunga, Erica Briggs, Charles Matthews
James F. Rhodes High SChool: Maysaa Zaghari, Jesse A. Knight, Chandradat Phalgoo Viviana Velez, Jariya Lashae Polk, Carlos Vasquez
Jane Addams Business Careers Center: Jonathan Gardner, Alexis Dempsey, Porche Greene-Stinson, Myla Clark, Latasia Powell, Paige Melton
JFK E³agle Academy: Mariah Sledge, Aysia Spruce, Destiny Jackson, Te'yon Stewart
JFK PACT: Tyler Dyous, D'Mauree Wiley, Jamien Fann, Jamila Thedford, Kaira Taylor, Deja Huff
John Adams High School: De'Aviance Colbert, Doneya Mitchell, Marquisa Montgomery, Shawn Robinson II, Jasmine Lynn Smith, Nautica Whooper
John Marshall School of Civic & Business Leadership: Onyango Kenyotta Pearl Jr., Taira Nunez
John Marshall School of Information Technology: Rochell Bradley, Amelie Nkiraniye, Kamila Reyes, Priyanka Rizal, Anthony Shaw, Anthony Washington
Martin Luther King Jr. Campus: Johnny Holloway, Anton Speight, U'Asi Wright, Zakarii Humphrey, Alexis Harvey, Chante Arrington, Trenody Sutton, Daeja Wimbley
Max S. Hayes High School: Nylah Brown, Glorymar Falcon-Fontanez, Shamar Hawkins, Daniel Ayala, Omar Ramirez, Angelo Branco
MC²STEM High School: Catherine Buxton, Nathan Cabot, Maurice Philpott Jr., Sandy Huynh, Mandy Huynh, Jeremiah Crawford
New Tech Collinwood: Taylor Benford, Jamir Baldwin, Jasichaunah Hannah-Mack, Chardajah Martin, Aliyah Uitenham-Wakeel, Georgia Toomer
New Tech East: Dwight Walker Jr., Julian Huff, Marie Little
New Tech West: Logan Conner, Angelica Hairston, Estefani Flores, Chryslian Padro, William Widner
School of One: Paul Schell, Kiara Heavenlee Mitchell, Modesto Matos, Cheyenne Gunn, Da'Vante Lyle
Thomas Jefferson International Newcomers' Academy: Francheska De La Cruz, Jazel Sanchez, Lizandra Eusebio, Joseline Aguilar, Lingmei Yang, Dariana Urena
Washington Park Environmental Studies: Victor Patterson, Tamara Thomas, Diamond Luster, Ronald Paynter, Dangleo Cottingham, La Davia Brown, Aniya Nolan, Daisha Colon
Whitney M. Young Leadership Academy: Johnelle Diamond, Tameyah Scott, Patricia Chapman, Sakiya Bigsby, Kristine Baldeo, Issac Davis, S'haun Huguley, Jala Cheeks, Braxton Putnam
Have a story idea for the CMSD News Bureau? Email it to newstips@clevelandmetroschools.org