Return to Headlines
Attendance campaign begins blitz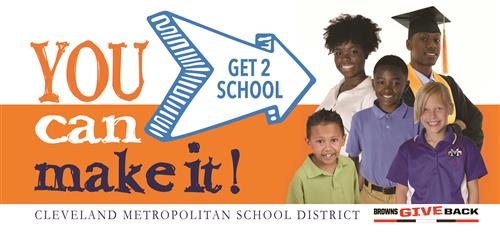 CMSD NEWS BUREAU
1/7/2019
CMSD is starting the second half of the school year by ramping up its push for good attendance.
The "Get 2 School. You Can Make It!" attendance campaign will be promoted on 30 billboards across the District and, through January, air spots on Radio One stations. Audio ads will be heard on RTA buses.
The campaign, now in its fourth year, uses awareness and incentives to reduce the percentage of students who miss more than 10 days of school in a year. The campaign has met or surpassed goals in each of the first three years.
Schools and students can win prizes in monthly attendance contests. In a competition going on this week, two elementary schools have a chance to win 50 tickets to see Disney on Ice, while two high schools can earn surprise "pop-up" parties from Z107.9 FM radio.
The Cleveland Browns serve as the campaign's signature partner, with contributions that include arranging player appearances at schools and supplying students with new uniforms.
Chronic absenteeism, defined as missing 10 percent of the school year, is a nationwide problem.
CMSD's campaign sets a higher threshold. District data shows that students who miss more than 10 days in a year score an average of 12 points lower on state reading tests and 15 points lower in math, are 9 percent less likely to meet the state's Third Grade Reading Guarantee and are 34 percent less likely to graduate from high school.
Have a story idea for the CMSD News Bureau? Email it to newstips@clevelandmetroschools.org.