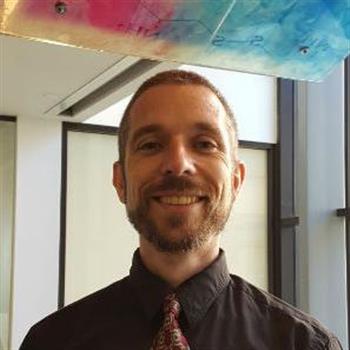 Phone:
Email:
Degrees and Certifications:
B.A. - Case Western Reserve Unviversity (Biology; Computer Science) M.Ed. - Cleveland State University (Curriculum & Instruction: MUST Program)
John Dutton

My parents instilled in me the value of international travel; I have visited the U.K., France, Czech Republic, Portugal and ten other countries, but I have not yet been to Asia or Australia! When I was entering high school, I decided that I needed a job, but I didn't want to work for someone else. My father was a small business owner, so I decided to start my own business. I visited adults' houses and taught them how to use their computers (this was the 90's), and I made a good amount of money doing it! When I graduated from CWRU, I joined the Peace Corps and got flown out to Mozambique, in Africa. I learned how to speak Portuguese so that I could teach biology and chemistry, and I learned what it was like to experience a brand new culture. It was both exhilarating and frightening at the same time, and I learned an incredible amount about the world and myself. When I returned to the U.S., I worked for Hyland Software (in Westlake) for a year. They sent me to Salvador and Brasilia, Brazil to train companies how to use their OnBase software. Just like in Mozambique, the beaches in Brazil are magnificent!

My passion has always been teaching, from those early days in high school through Mozambique and East Cleveland, and now at Campus International School. I enjoy opening up students' minds and shaping global citizens especially through climate change education and environmental awareness. My philosophy about science is that it has to be experienced in order to be understood, and every student in my class is a scientist from the moment they walk in. More importantly, I value every student as an individual and it is of utmost importance that I get to know all of my students. I am particularly interested in how storytelling affects understanding of scientific concepts, so don't be surprised to see students writing, singing, slamming, acting and telling a wide variety of stories in biology! I have also not worked or lived downtown before, so I am looking forward to all of the new things we will all experience.

Ultimately, I love challenging students to achieve more than they ever thought they could. It excites me to teach at Campus International School because we have so many passionate, dedicated people that will challenge each and every child and adult to be their very best. I am firmly committed to being the best that I can be on a daily basis, and I challenge all of my students to do the same, with my steadfast support and guidance.