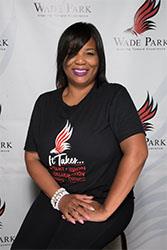 Phone: 216-838-1750
Email:
Degrees and Certifications:
Jaya Neal

Mrs. Jaya Neal has been an educator in the Cleveland Metropolitan School District for over 20 years. She received her bachelor's degree from Cleveland State University and a master's degree from Notre Dame College in special education. In addition, she earned a reading endorsement from John Carroll University. In 2004, Jaya Neal also became a National Board-certified teacher.

For the last nine years of her career, Mrs. Neal has had the privilege of serving scholars at Wade Park School in the gifted and talented program. Mrs. Neal is dedicated to increasing the representation of culturally diverse students in gifted education classes. She believes that it is critical to close achievement and opportunity gaps for culturally diverse children and that all students can achieve at high levels if they are taught at high levels.

Mrs. Neal is committed to providing all children with equal access to a world-class education by making high-quality literature available to her students. She is committed to nurturing children's positive reading identities, reading engagement, and academic growth by increasing students' access to authentic literature. She strives to create a classroom surrounded with books so that students live in "book floods" with "fingertip access to books". Mrs. Neal strongly believes that all children deserve to see their experiences and their families reflected in the books that they read daily in the classroom.