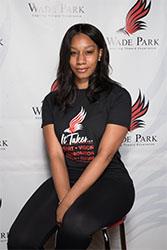 Phone: (216) 838 - 1750
Email:
Degrees and Certifications:
Charmika Ivy

Charmika Ivy uses her teaching abilities to help scholars reach their full potential. She intends to educate her third-grade students with math skills that go beyond the classroom. Ms. Ivy emphasizes heavily on critical thinking, problem-solving, quantitative reasoning, communication, time management, teamwork, and independence. Ms. Ivy has strong classroom management and high expectations for all scholars. However, she offers countless opportunities for creativity, choice, and flexibility in the classroom. Ms. Ivy takes pride in how highly her scholars think of her and she holds herself to a high standard to be the best example she can be. Ms. Ivy has various credentials.

She has a Bachelor of Science Degree in Education & a double Master of Education Degree in Literacy and Curriculum and Instruction. She also acquired a K-12 reading endorsement and is newly certified to teach English as a foreign language across the world. Ms. Ivy hobbies included traveling, working out, and journaling. Ms. Ivy doesn't have any children but adores her 4-year-old sister like she's her own.