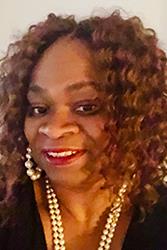 Phone: 216.838.1750
Email:
Degrees and Certifications:
Jennifer Powell

Ms. Jennifer Powell began her career working with children as a teen working in the Summer Youth Program as an Assistant Daycare Teacher. After graduating from Kent State University she pursued a career as a case manager in the juvenile justice and mental health system. As a case manager, she was not 100% satisfied with her career. So, with strong encouragement from her mother and family, she began graduate school at Cleveland State University to obtain a Master's in Education. This year marks Ms. Powell's 22nd year in the Cleveland Metropolitan School (CMSD) District as an Intervention Specialist. During her tenure she has worked at only two schools; Franklin D. Roosevelt and Wade Park. Ms. Powell does not like transiency because she likes planting roots with children and being a part of their village and assisting in the guidance that all educators provide.

She strongly believes in nurturing the whole child: mentally, physically, and spiritually. Ms. Powell stated that "the most rewarding part of being an educator is receiving visits from former students, receiving text messages and phone calls from them." She has developed a positive rapport with her scholars and their parents.

During her tenure at CMSD she has served as a core team leader and special education liaison at both FDR and Wade Park. She has also served as the Student Support Team committee leader and social committee event leader. Ms. Powell continues to enrich her skills by attending webinars, professional development sessions, and participating in enriched professional learning communities. Ms. Powell is a single woman and is an awesome aunt of four nieces.