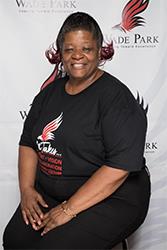 Phone: 216.838.1750
Email:
Degrees and Certifications:
Dorinda Wainwright

Ms. Wainwright began her career as an educator in 1989 with the Cleveland Ht. University Hts. School district as a paraprofessional. In 2000, she became employed at the Cleveland Metropolitan School District working as a paraprofessional. In her pursuit of higher education, she worked, two intermittent jobs and attended school full time. She earned an Associate degree in Liberal Arts from Cuyahoga Community, graduated from Cleveland State University with a bachelor's degree of Science in Special Education with honors of Cum Laude. Ms. Wainwright transitioned into the role of an Intervention Specialist and within her first year of teaching, she earned a master's degree in Education in the area of Leadership, Supervision, and Administration from Cleveland State University. The most recent educational pursuit Ms. Wainwright accomplished was attending Liberty University during the spring and summer sessions of 2020 where she earned a certification in Gifted Education.

Ms. Wainwright is a highly qualified teacher, with a philosophy of teaching that includes facilitating the education of her students by using a holistic approach that enhances her students learning experiences. She teaches the core subjects and STEM using online academic resources related to 21st-century computer skills. She personalizes her career by developing relationships with the staff, families, and students. She enjoys using hands-on materials and manipulatives, project-based, real-world activities, teaching subject matter based upon student's interests, and special community and school projects.

It is her mission to develop students learning capabilities to their fullest potential and to develop their social and emotional well-being. Her core belief is to educate students to become independent learners and practitioners while they acquire lifelong skills to use on their career path to fulfill the mission of the Cleveland Municipal School District, to become successful high school graduates with the potential of receiving a post-graduate education and become productive members in the global society.