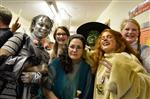 Phone: 216-838-6650
Email:
Degrees and Certifications:
Christine Campion

I am starting my 30th year of teaching at Newton D. Baker School of Arts. I am thrilled that I am teaching in my neighborhood in an excellent school that integrates the academics and arts, so our students can have a truly comprehensive education that will prepare them for high school and beyond.

I love 5th Grade's content and I hope to share that passion with my students daily. I relish the ARTS and believe they are connecting factor in true education. I look forward to an exciting year.

My Mission Statement:

Every child that walks through my classroom doors will be guided and challenged to become active learners. I will equip the children with the tools of inquiry and discovery. I will facilitate their learning by creating a risk free environment where the child will have multiple opportunities to experiment, question, and problem solve. The children will become active and critical thinkers. My enthusiasm and commitment to instill lifelong learning skills will help the children reach their fullest potential.

I can be reached at christine.campion@clevelandmetroschools.org or you may call me at 216.838.6650.

We will be reaching out to you in numerous ways. You will be given a Schoology sign in which will be used by the student and family. I look forward to this adventure with you being at my side.