Return to Headlines
Jesse Owens oak to live on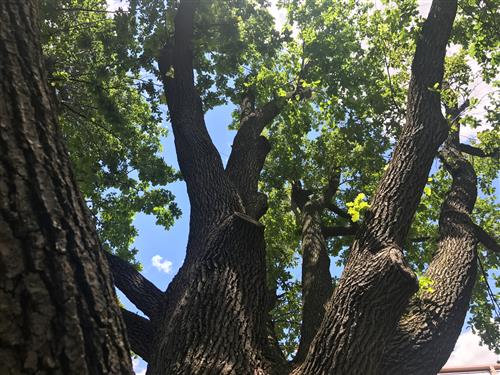 CMSD NEWS BUREAU
5/31/2017
The cloning was a success -- and a piece of Olympian Jesse Owens' legacy will apparently live on for generations to come.
Stems collected from an oak that Owens donated to James Ford Rhodes High School after the 1936 Olympics have been successfully grafted to seven seedlings that are growing at a nursery in Lake County. Next spring, exact DNA replicas of the oak should be ready for planting
As the trees' branches spread, so will history: The oak at Rhodes is the last known survivor of four presented to Owens at the Olympics in Berlin, one for each of the gold medals he won in track and field events. The black athlete's athletic feat was an embarrassing blow to Adolf Hitler and his doctrine of white supremacy.
Owens had the oak planted at Rhodes because he trained there, but the tree is aging. The
Old Brooklyn Community Development Corp.,
a nonprofit dedicated to maintaining the vitality of the Rhodes neighborhood, asked Holden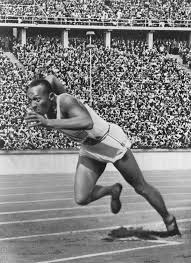 Arboretum in Kirtland to help propagate the oak.

Who owns the new trees and where the trees will be planted remains to be determined, but for now CMSD, the Old Brooklyn CDC and Holden Arboretum are happy to know that symbols of Owens' historic achievement will live on.

"I'm just thrilled that the tree has provided saplings to maintain the great and historic legacy it represents," said Patrick Zohn, the District's chief operating officer.

Old Brooklyn Executive Director Jeff Verespej (pronounced vur-es-pea) envisions replacing Olympic oaks lost at Owens' alma mater, East Tech, and the athlete's former home on Cleveland's East Side, as well as locations such as Public Square and City Hall. He also imagines future replication and more oaks planted far and wide.
Just don't forget those roots in Old Brooklyn.

"I think the Jesse Owens legacy here is one that's not told enough; maybe this is an opportunity to tell that story," Verespej said. "As long as we elevate the story of Jesse Owens at James Ford Rhodes High School, I'm happy."

Charles Tubesing, Holden's plant collections curator, and Chad Clink, the arboretum's community forester, visited Rhodes on a chilly day in February. Clink donned a harness and hoisted himself in the air to collect the stems

Oaks can be tricky to graft, though members of the white oak group, like the English oak at Rhodes, fare better than red, oaks Tubesing said. Holden enlisted the help of a nursery that has proved skilled at the art.

A shoot, or scion, of the oak was grafted to each sapling by cutting a wedge near the bottom of the young tree, inserting the shoot, and then binding the union and sealing it with wax. Once the two were united permanently, the original sapling was cut away at the rootstock.