Return to Headlines
Year-round schools begin, including two new models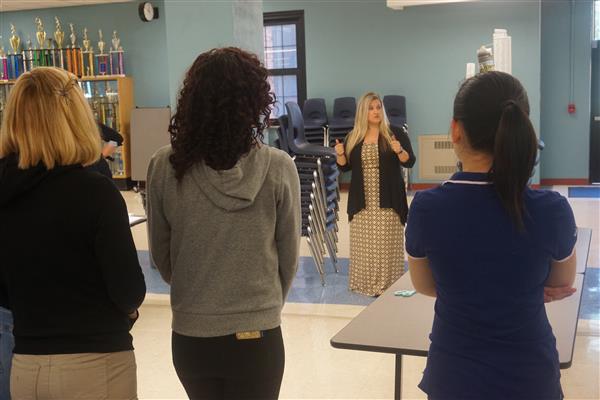 A Rhodes School of Environmental Studies teacher leads students in a discussion after they completed a team-building activity on the first day of school.
CMSD NEWS BUREAU
7/31/2017
Halfway through Wailiany Figueroa's first day at the Rhodes School of Environmental Studies, she knew she had made the right school choice.
All it took for Wailiany was the principal explaining a typical day at the school -- which will consist of hands-on projects and personalized learning -- and an "icebreaker" activity to see which team of students could build the tallest tower using only tape and newspapers. Wailiany describes herself as someone who "can't always be sitting down" and regularly jumps out of her seat to volunteer to help a teacher.
"The fact that we're going to be able to move around and not just sit with our books is great," she said.
Rhodes Environmental Studies is one of CMSD's eight year-round schools that had their first day for ninth-graders on Monday. The upper grades will begin on Tuesday. More schools will open next week, and the majority of students will go back on Monday, Aug. 14.
Monday was an extra special day at Rhodes Environmental Studies and John Adams College and Career Academy, which both welcomed their inaugural classes. The Rhodes freshmen spent some of their day doing typical orientation activities, like touring the school and a "speed dating" activity to meet their classmates, and there was an emphasis on defining the new school's culture.
Rhodes Environmental Studies Principal Tara Drouhard said that while the curriculum will be infused with environmental studies subjects and STEM (science, technology, engineering and math), the goal is to create a high school experience that is meaningful and relevant to all students' interests.
"When you look at the student survey data and anecdotal conversations with kids, they feel like high school is just something that they have to do and not necessarily anything that they feel is beneficial to them," Drouhard said. "Hopefully we're going to shift that mindset a little bit."
She plans to do so in part by partnering with local organizations like the Cleveland Metroparks Zoo and Cuyahoga Valley National Park. Drouhard said the students will spend a week at the national park later in the year. That idea was especially appealing to Wailiany, who despite growing up in Cleveland, had never heard of the park until Monday.
"I'm already learning and finding out new things about where I live," she said.
The Rhodes Campus is also home to the new Rhodes College and Career Academy and the comprehensive James F. Rhodes High School for grades 10-12.
John Adams College and Career Academy opens
On the other side of Cleveland, Principal Luciana Gilmore spent Monday getting to know the first students at John Adams College and Career Academy. Gilmore was previously an administrator at John Adams High School and grew up in the same neighborhood where many of her students live.
The principal spent the morning introducing students and their parents to the goals and resources at the school, which shares a building with the new Bard High School Early College Cleveland East and grades 10-12 of the comprehensive John Adams High School. The new schools each have their own wing of the building.
Students were then broken up in to advisory groups, which are each led by one teacher who will be the students' year-round mentor and college advisor. The school also employs a full-time guidance counselor.
The advisors began ushering students toward a college and career mindset right away, with morning conversations focusing on where students see themselves after college. They introduced the students to careers in the sports industry, which is one of the focus areas of the new school, as evidenced by the logo on the students' maroon uniform shirts that includes a runner.
Like Rhodes Environmental Studies, John Adams College and Career Academy is a mastery-based school, which means that students advance and master content at their own pace with help from teachers and school resources, including technology. Both schools are "one-to-one" schools, which means each student will be given a laptop. At John Adams College and Career Academy, students will have their own "hot spot," so they can connect to the Internet on their laptop at any time, even if they don't have Internet access at home.
Bre'Asia Minefee is one of the new John Adams College and Career Academy students. After a day of learning about her school, she said she is looking forward to meeting new people and starting her favorite class, social studies.
"I think the school is going to help me succeed," she said. "I don't know what I want to do after high school yet, but I'm excited to learn more about my options."
MC²STEM welcomes ninth-graders to museum campus
MC²STEM's ninth-graders and teachers reported to the Great Lakes Science Center, where students spend their first year at the school. Sophomores take their classes at GE Lighting's Nela Park campus and juniors and seniors have space at Cleveland State University.
Sunshine and the blue waters of Lake Erie painted a summer panorama outside, but the students and teachers were cheerfully fixed on a scavenger hunt and other icebreaking activities inside the museum.
DeAndre Gill, whose mother decided he would attend MC²STEM, likes the school's emphasis on project-based learning and mastery learning. At first, he wasn't sold on year-round school, but reservations faded as he participated in opening-day activities and looked ahead to a three-week break that starts in late September.
"It's cool," said DeAndre. "It's fun."
MC²STEM, which boasts a 94 percent graduation rate, is full with 110 students registered and 60 more on a waiting list.
This year, the school will pilot use of the online Summit Learning Platform, developed with the help of Facebook engineers, in ninth grade and expose students to information technology at all grade levels. Rhodes Environmental Studies also is using Summit.
MC²STEM Principal Feowyn MacKinnon said the school also will join CMSD's Davis Aerospace and Maritime High School to offer club teams in rowing and lacrosse.
MacKinnon said year-round school is effective in preventing the summer learning loss she saw children struggle with when she was a teacher. She said parents love the concept and students warm to it after getting out for that first break in September.
"Our kids come into the first day of school with projects they started the year before," she said.
The District's other year-round schools are Cleveland High School for Digital Arts,
JFK E³agle Academy, JFK PACT, Lincoln-West School of Global Studies and Lincoln-West School of Science & Health.