Return to Headlines
Attorney general dedicates FDR Boys and Girls Club
Ohio Attorney General Mike DeWine visited a CMSD K-8 school Monday to celebrate the opening of a new Boys and Girls Club his office helped to fund.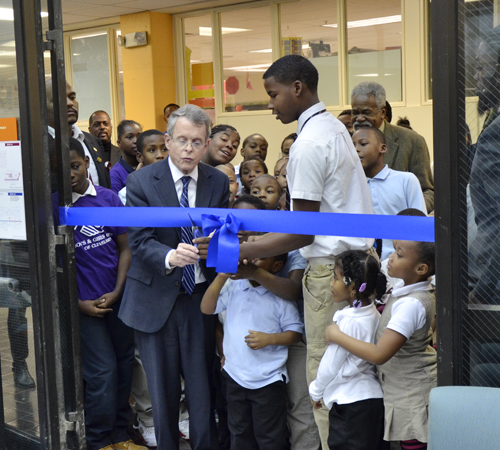 The money came from a settlement that DeWine and other attorneys general reached with mortgage servicers accused of contributing to the nation's foreclosure crisis. DeWine put aside $4.3 million of Ohio's $300 million-plus share to help Boys and Girls Clubs work with youths in hard-hit areas like Glenville.
"The idea was to create more Boys and Girls Clubs," DeWine told about 75 students gathered Monday in the FDR cafeteria. "I'm very happy about that."
On cue, the students quieted to a hush when DeWine got to the building, then shouted, "Thank you," in unison as he entered the cafeteria. They joined him in cutting a ribbon at the club's doorway, then fanned out to play pool, air hockey and table tennis.
The club at FDR operates from 2:30 to 6:30 p.m. Art instructor Seneca Bankston, one of eight Boys and Girls Club employees assigned to the site, said the club provides an outlet for children, some of whom tell him they come because "it's not happy at home."
Fifth-grader Briasia Winfree's mother works, so she stays at the club until her grandmother picks her up. She enjoys the club both for both its academic and recreational opportunities.
"The staff is here to help us with our homework," she said. "After our homework, we can play games with the other students."
The club opened earlier this school year, but the pool, table tennis and air hockey tables did not arrive until just before Thanksgiving. Game room instructor Meika March said that day felt like an "early Christmas" to the students and made them relish the club atmosphere even more.
"At the end of the day, they don't want to leave," she said. "They love it here."
DeWine's grant supplied about a third of the amount that will be used to operate the club for three years. The Cleveland Foundation, the United Way of Greater Cleveland and the Boys and Girls Club of Cleveland came up with the rest.
The attorney general's office also gave money to the Boys and Girls Club of Cleveland to open two more clubs in the area. President Ron Soeder said the clubs will be in Cleveland, preferably at a school, and at the Martin Luther King Jr. Civic Center in East Cleveland.