Return to Headlines
Local artists unveil murals at Campus International School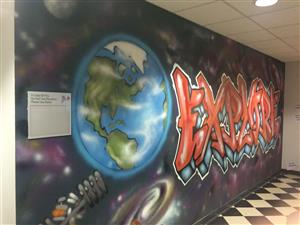 CMSD NEWS BUREAU
9/2/2015

In a week when the
District also announced construction plans
for a new K-12 Campus International School by 2018, there was also cause for celebration at the existing Chester Avenue campus.
Local artists Bob Peck and Garrett Weider of Graffiti HeArt unveiled an exciting artistic addition to the
CMSD school on the Cleveland State University campus
Monday morning: a pair of bright, new large-scale graffiti wall murals designed to inspire students to explore, think globally and be creative.
Graffiti HeArt
is a Cleveland non-profit that was commissioned by the Center for Urban Education at Cleveland State University to produce the murals in the CIS building. The graffiti mural idea began with CIS teacher Kate Grzelak, who approached the university for funding help.
The finished murals drew oohs, ahhs and applause on Monday. The two artists also fielded student questions about their artistry before a packed house of students, staff, parents and officials from the school district, the university and the arts non-profit.
Peck's mural, painted just outside the school office, shows images of the Earth and space, a space station and the galaxies beyond – and the word "Explore" in giant, orange letters.
Weider's mural is on a wall near the stairway and depicts a massive cityscape, but also includes U.S. and world landmarks like the Eiffel Tower, Empire State Building, Taj Mahal, Seattle's Space Needle, the Statue of Liberty, and even a bit of Venice in the midst of Cleveland buildings.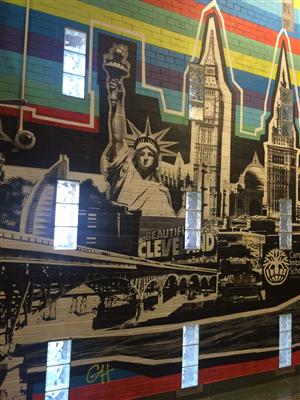 "CIS wanted a global vibe to things, so it was only logical I have Cleveland buildings in there, but also add other iconic buildings from around the world," Weider said in reports.
CIS Principal Julie Beers said in reports that he murals not only "create an environment where children want to come every day," but "capture the spirit of who we are."
"We strive to foster international mindedness while taking action in our community and the artwork reflects that," she said. "We encourage our students to explore and both murals so perfectly captured that spirit."

Campus International is an International Baccalaureate school, meaning that it is accredited by the non-profit educational foundation founded in Geneva, Switzerland, in 1968 to "help develop the intellectual, personal, emotional and social skills to live, learn and work in a rapidly globalizing world," according to its website.

There are more than 1.2 million IB students in 3,800 schools in 148 countries, including 1,500 schools in the United States. Campus International is among 427 offering the "Primary Years Programme" (ages 4-12).

Campus International has been growing rapidly since opening in 2010. For now, fifth- and sixth-graders are taught in what school officials are calling the South Campus, a converted Methodist church at East 30th Street and Euclid, and kindergarten through fourth grade are at the North Campus, the CSU Cole Center on Chester Avenue.