Return to Headlines
United Way shows support for "wraparound" schools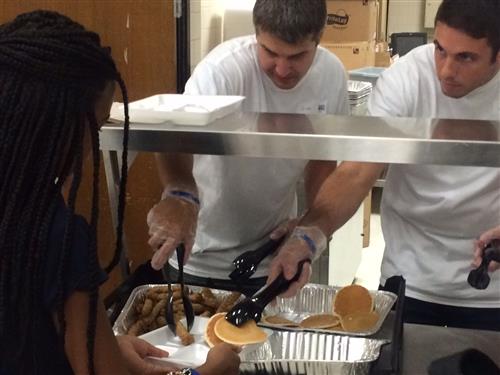 CMSD NEWS BUREAU
9/3/2015
The United Way of Greater Cleveland kicked off its annual campaign Thursday at 25 CMSD schools, underscoring a commitment to provide the schools' students and families with extra services to help them succeed.
United Way President and CEO Bill Kitson and more than 250 volunteers served pancake breakfasts to about 10,000 students, roughly a fourth of CMSD's enrollment.

The 25 schools receive "wraparound" services to address the effects of poverty, allowing students and parents to focus more clearly on the children's academic achievement. Strong parent involvement and other indicators show the strategy is working, Kitson said.
CMSD, United Way and other funders have invested nearly $4 million in the program over the last two years. Each school is paired with a lead agency and gets a site coordinator, hired through United Way, to organize the assistance.
Kitson helped with the feeding at Anton Grdina School, located on East 71st Street near Kinsman Road.
The school is between site coordinators at the moment, but Marionna Bennett, an AmeriCorps VISTA volunteer who works at Anton Grdina, is filling the gap. She said the wraparound program supplies such things as after-school enrichment for students, job-readiness and financial literacy workshops for parents and basic necessities like furniture and clothing for families.
Parent involvement has risen dramatically at Anton Grdina, said Bennett, who graduated in 2010 from the Cleveland School of the Arts. She said the school has built relationships with both mothers and fathers.
"We know them," Bennett said. "We know what they need, so we are able to help."
At Bolton School, less than 2 ½ miles to the northeast, Principal Reginald Shaw had a folder full of ideas for Lamont Davis when he took over as site coordinator last November.
Davis, who had a background in sales and marketing, sees that students' needs are met with resources ranging from shoes to mentoring. He also has forged or solidified 22 community partnerships with PNC, Cleveland Clinic, the Jewish Federation of Cleveland, churches and others.
Davis believes the wraparound program gives students a sense of stability.
"I think it makes them feel safe," he said. "They feel they have someone they can depend on."
The United Way launched its 2014 campaign at another wraparound school, Franklin D. Roosevelt. The organization had previously sharpened its mission to cover education, health and financial stability.
The United Way made an initial three-year commitment to the wraparound schools but will continue to support the program beyond 2016, Kitson said. He said the investment sends a signal to voters who approved a levy that will be up for renewal next year.
"We're all in this together, and we're going to get this done," he said.
In keeping with a practice started last year, the United Way did not announce a goal for the campaign, which is being chaired by Cleveland Indians Chairman and Chief Executive Officer Paul Dolan and Deborah Read, managing partner of the Thompson Hine law firm. The campaign will announce its results in March.
The United Way will hold a second kickoff downtown on Thursday, Sept. 10, selling $5 pancake breakfasts from 7 to 9 a.m. on West Mall Drive, outside Key Bank Tower.