Return to Headlines
CMSD is key partner in serving refugees (video)
CMSD NEWS BUREAU
9/10/2015
Cleveland is studying ways to serve the city's growing refugee community, and a CMSD school will play a central role.
The Thomas Jefferson International Newcomers Academy, located on West 46th Street near Clark Avenue, works with students in preschool through 12th grade who arrive from other countries and Puerto Rico and need help learning English and different customs.
Refugees comprise perhaps a third of enrollment that totaled 545 when school began last month and had reached 614 by the end of last week. Principal Marisol Burgos believes the school will reach its capacity of 800 before the school year is finished.
"I think we're going to make it," she said. "We're only at the beginning."
The school, which opened in 2010, is key to helping refugees adjust to life in America, said Councilman Joe Cimperman, whose ward includes the Thomas Jefferson property.
Cimperman helped organize "Open Doors to a Welcoming City," a workshop held Thursday morning at the Ariel International Center. More than 200 civic leaders and others discussed ways to meet the refugees' needs for education, jobs, affordable housing, safety and other government services, transportation and health care.
The councilman is promoting the development of housing for refugees near Thomas Jefferson and says more than 20 homes will soon be under construction. He views refugees as part of Cleveland's push to spur immigration and add to the workforce.
"We have an opportunity to make that school the No. 1 economic and community development driver for that neighborhood," he said.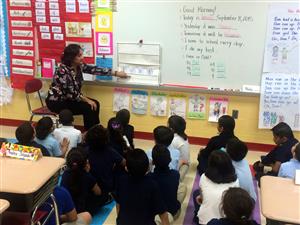 Thomas Jefferson and CMSD are part of the
Greater Cleveland Refugee Collaborative,
which sponsored the workshop with City Council and the Community West Foundation.
The school has become a "strategic partner" for Catholic Charities, a leading resettlement agency in the Cleveland area, said Stacy Dever, program director for migration and refugee services. She said Thomas Jefferson has welcomed Catholic Charities staff into the building to tutor students and provide a "Refugee 101" primer for teachers.
"They're just absolutely incredible," Dever said. "They're providing an important service -- education of our children in need."
Worldwide, 59 million people, more than half of them women and children, are displaced and living in exile, Dever told the audience at the workshop. That number is the largest since World War II.
Dever said more than 700 refugees arrive in Cleveland each year. Many gravitate to the near West Side and enroll children in Thomas Jefferson.
Though the enrollment has a Hispanic majority, students are increasingly coming as refugees from around the world, including the South Asian country of Nepal, the Congo in Africa and Arabic-speaking nations. The children speak 24 languages and probably hail from even more countries.
Younger students are supposed to remain at Thomas Jefferson for one to two years while they become skilled enough in English to move to the mainstream in a school where they can receive bilingual assistance. High school students can stay through graduation.
The school has aides who can translate, but teachers often have to bridge several languages at once. They point to objects or gesture to help students understand.
Counselor Maria Bozak said she is impressed by the "incredible growth" students exhibit during a school year. She said they have a great need for "community connections," including students who speak English, mentors and field trips.
CMSD Chief Executive Officer Eric Gordon attended the workshop for fact finding. He said the District might have to consider expanding Newcomers services, perhaps by adding a location in another part of the city.
Chief Portfolio Officer Christine Fowler-Mack wants to explore ways of integrating instruction for Newcomers with programs in some of the growing new school models she oversees. She said the mixture would capitalize on the Newcomers' cultural assets and benefit all students.
"Our kids are increasingly inheriting a global world," she said.