Return to Headlines
GE engineers help students with lighting projects
CMSD NEWS BUREAU
9/28/2015
Dozens of budding CMSD engineers from MC2STEM High School turned their talents toward helping others last week during the "Empowering People With Light" Trade Show at the
GE Lighting
campus in East Cleveland.
The annual show is also the sophomore "
Capstone" project,
a sort of final exam for a 10-week project that incorporates the project-based learning across multiple academic disciplines. Students presented their projects over two days to their peers, their teachers and the GE volunteers who had worked with them to develop the ideas.
The sophomore projects in the past could address virtually any lighting and technology challenge, but this year the focus was "connecting technology with people," said said Andrea Vullo, community relations manager at GE Lighting.
"The students chose a disability, thought about social justice and then brought technology to that," Vullo said. "We did a lot of collaboration between our employees and the teachers. How can we enable those with disabilities to empower them through their lighting projects."
Projects ranged from a light that would flash when a doorbell rings, allowing a deaf person to know someone was at the door, to a mock-up of a drone that could hover over a person who has lost use of their hands, lighting their way in the dark.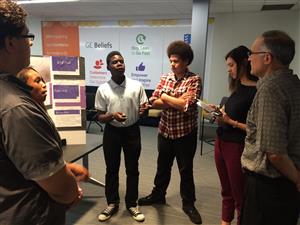 "This group really thought outside the box about how to bring it back to the community," Vullo said. "We enabled them with bluetooth technology, motion sensors and light sensors and they took off with it."
Damien Johnson, MC2STEM assistant principal for 10th graders, said about 109 students were involved in the Capstone projects.
"We have a wonderful partnership with GE, one we've had since 2009," he said. "That partnership has got us internships, the benefit of group dynamics and project-based learning, but also helped us with the buddy system where GE employees are working with our students directly.
"And not only that, but we're on a Fortune 500 campus and the experience here is invaluable."