Return to Headlines
"Get 2 School" campaign goes door-to-door (photo gallery)

CMSD NEWS BUREAU
10/17/2015
The citywide "Get 2 School" campaign got personal Saturday in several Cleveland neighborhoods.
After
a citywide kickoff in July
to start the school year that focused on the urgent and serious issue of absenteeism and a lively social media campaign that opted for a little silliness to get the point across (
CEO Eric Gordon's #At10Dance challenge
spurred dozens of copycats), Saturday's attendance event was about meeting Cleveland Metropolitan School District families right where they live.
Dozens of volunteers went door-to-door to urge families to make sure their school-age children were making it to school every day. Some fanned out from Willow School on Glazier Avenue into several East Side neighborhoods to get the word out, while others gathered at Watterson-Lake School on W. 74th Street to head into areas feeding that school and two others, Waverly and Joseph Gallagher.
Volunteers at Willow also went into neighborhoods near Fullerton and Mound STEM schools.
While the volunteers were given addresses for families whose children were missing school frequently, they were also instructed by CMSD's Chief of Strategy Implementation Kevin Khayat to "keep the message positive."
"Our message is about reminding them about the importance of getting to school," Khayat said. "We're not out there saying 'Why isn't your child going to school?' but encouraging them to do so. On the other hand, we do want to know what barriers they may have, whether it's transportation or a family situation, so we can try to help."
The District's Leo Serrano added that the door-knocking effort "was all about the joy of going to school."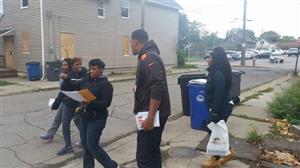 CMSD graduate and former Cleveland Browns player Steve Sanders joined the volunteers at Willow School.
He told the group that he moved more than a dozen times in his years as a student, illustrating one of the challengers some urban families face in getting their children to school regularly.
Cleveland City Councilman Matt Zone accompanied Watterson-Lake art teacher Corine Hill and her two grandchildren as they knocked on doors at houses on some of the streets where Zone grew up in the Watterson-Lake area.


"Hello, is anyone home? This is Matt Zone, your councilman," he called out at a handful of houses where no one answered. At another, he met a grandmother who said her daughter's children made it to school regularly.
But Zone also met a woman and her boyfriend who said their children haven't been to school much this year because of illnesses and complications with the woman's pregnancy – but also because one daughter "just likes to play and doesn't want to go to school."
"I understand that, but remember you're the boss," Zone told the woman. "These children need to be in school to get an education, so they can not only finish high school, but go to college and someday be the next councilman for the city of Cleveland."
The parents agreed do try to get their children to school more frequently. Afterward, Zone lamented the difficulties for the family.
"Every situation is different," Zone said. "Everyone has challenges, and we don't always know what they are until we talk to them in person."
Hill, a CMSD teacher for the last 22 years, said that's why she wanted to join the door-to-door campaign.
"I've seen it in our school, I've seen how kids fall behind when they aren't in school," she said. "But people tend to get more involved when they feel a human interaction."
The "Get 2 School. You Can Make It!" campaign was created to attack what has become an epidemic nationwide. Here in Cleveland, in the past more than half of the students have been chronically absent – defined as missing 10 days or more per year -- in nearly two-thirds of District schools.
CMSD joins school districts and communities across the country that have taken on the problem of chronic absenteeism.
Attendance Works,
a federal and state initiative that is providing guidance to the Cleveland campaign, reports on the effects and solutions.
District data shows the absences lead to a sharp decline in test scores and put high school students at risk of dropping out. Missing 10 days or more cuts scores on state reading tests by an average of 12 points and math scores by 15 points; missing those days in ninth or 10th grades can make a student 34 percent less likely to graduate.
"We are making gains under the reforms spelled out in The Cleveland Plan," CEO Eric Gordon said at the kickoff event in July. "But we can't educate children who regularly fail to show up for school. We count on families to help by doing their part."
The superintendents have pledged to make attendance a priority and mobilize their communities against chronic absenteeism, defined as missing 10 or more days a year. Gordon's name appeared on a
state-by-state list
of the superintendents in a recent edition of Education Week.
The White House recently launched the
Every Student, Every Day
initiative to fight chronic absenteeism. Steps will include a public-awareness campaign and a 2016 summit on the issue.