Return to Headlines
Attendance campaign shows progress
CMSD NEWS BUREAU
10/21/2015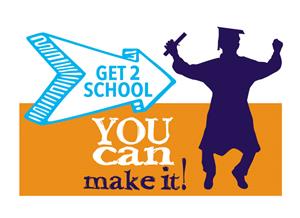 CMSD's campaign to increase attendance is showing progress, data from the first grading period shows.
The "Get 2 School. You Can Make It!" campaign seeks to reduce the number of students who are chronically absent from school, defined as missing 10 or more days in a year.
When the first quarter ended Friday, just under 63 percent of CMSD students were on track to finish the school year with fewer than 10 absences. That was up from less than 59 percent averaged over the previous three years and represented an additional 1,700-plus students.
District data shows that students who are absent more than 10 days in a year score 12 points lower on state reading tests and 15 points lower on math tests.
Students who are out that many days in early grades are 9 percent less likely to meet Ohio's Third Grade Reading Guarantee, required for promotion to fourth grade. Ninth- and 10th-graders become 34 percent less likely graduate.
CMSD
launched the "Get 2 School. You Can Make It!" campaign in July
.
Since then, the campaign has spread its message with lawn signs, billboards, radio ads and automated calls to students from coach Mike Pettine and safety Donte Whitner of the Cleveland Browns, a major partner in the effort.
Volunteers have placed phone calls and visited the homes of students at risk of chronic absenteeism. Schools are running incentive campaigns to increase attendance.
(Campaign volunteers visit students' homes. See story here.)
To follow the campaign or sign a pledge of support, go to
www.get2schoolcleveland.com
Schools across the country are dealing with chronic absenteeism. For more information, go to
www.attendanceworks.org