Return to Headlines
Inspiring CMSD grad addresses STEM leaders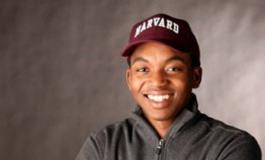 CMSD NEWS BUREAU
11/12/2015
CMSD graduate David Boone, who went from being homeless as a teenager to attending Harvard University, delivered the keynote address this week as representatives from Cleveland and 26 other communities met in Washington, D.C., to discuss strengthening and expanding education in science, technology engineering and mathematics.
The STEM Learning Ecosystems Community of Practice conference
brought together a pilot group
that the national STEM Funders Network announced in September. The conference included a meeting Thursday at the White House.
Boone, whose inspiring story has been widely told, graduated second in his class from Cleveland's
MC²STEM High School
. Now a senior at Harvard University, he spoke to the gathering Wednesday, telling of the impact STEM education has had on his life.
The STEM Funders Network chose communities where schools and outside partners have collaborated on high-quality STEM instruction in preschool through college. CMSD is part of the Northeast Ohio STEM Learning Ecosystem.
MC²STEM, which opened in 2008, is an unusual model. Students attend ninth-grade classes at the Great Lakes Science Center, 10th-grade classes at GE Lighting's Nela Park campus and 11th- and 12th-grade classes at Cleveland State University.
At GE, students receive mentoring from employees and work on a capstone project that takes a product from conception to development.
MC²STEM recently
gained admission to Schools That Can
, a network of high-performing, high-potential urban schools that serve predominantly low-income students without setting admission requirements. The school's most recent state report card shows a graduation rate of just under 93 percent.