Return to Headlines
Attendance campaign hits second-quarter goal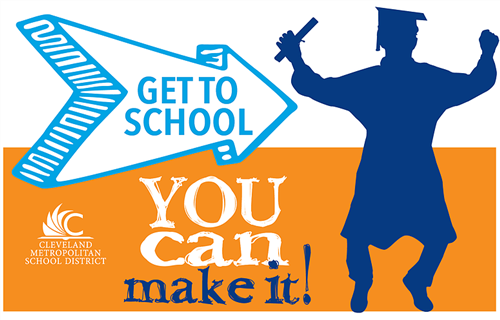 CMSD NEWS BUREAU
12/28/2015
"Get 2 School. You Can Make It!" is the cry for CMSD's campaign to improve attendance – and halfway through the academic year families are responding to the message.

When the first semester ended this month, 55.6 percent of District students had missed four or fewer days. That compares with an average of 49.5 percent at the same point the previous three years. In a district with 38,832 students, the difference is 2,369 more students.

The math gets complicated, but the increase keeps the schools on a course to achieve their goal of a 10 percent reduction in the number of children who miss 10 or more days for the year. For the District to have a chance of hitting that first-year target, more than 54.5 percent had to be on track in attendance at the midpoint.
Chronic absenteeism plagues schools across the country. To learn more, go to
attendanceworks.org
Nationwide, districts define chronic absenteeism at as many as 20 days. CMSD has gone much further with its campaign, trying to keep students from missing half that number.
"That's one day a month during the school year," Chief Executive Officer Eric Gordon said. "That's a really high bar."
In the past, nearly two-thirds of CMSD schools reported that more than half of their students missed 10 or more days in a year. District data shows that CMSD students with 10 or more absences are 9 percent less likely to meet Ohio's Third Grade Reading Guarantee, required for promotion to fourth grade. They score an average of 12 points lower on state reading tests and 15 points lower in math; high school students are 34 percent less likely to graduate.
CMSD
kicked off its campaign in July
with billboards and yard signs and circulation of a pledge to support the cause. To sign the pledge, go to
get2schoolcleveland.com
Community volunteers have joined CMSD staff in calling and visiting the homes of students who are at risk of not meeting the attendance goal. Schools have offered a variety of rewards such as dress-down days and pizza parties.
The Cleveland Browns have played a major role in the campaign. Coach Mike Pettine and players have recorded phone calls placed to District households, visited schools and appeared in a video stressing the importance of good attendance; the Cleveland Browns Foundation set aside a portion of proceeds from 50/50 raffles at home games for the campaign.
Earlier this month, the Cleveland Browns Foundation and the American Dairy Association Midwest announced that
Wade Park School would receive $10,000
for achieving the largest increase in breakfasts served among participating CMSD schools during a week in late November. The schools added hot breakfasts as an attendance incentive.
On Dec. 17, the day before the first semester ended, McDonald's franchisee Herb Washington gave out 207 bicycles to students who had dramatically improved their attendance and academic achievement from the first half of the previous school year. That was one bike for a sixth-, seventh- and eighth-grader in each of the District's PreK-8 and K-8 schools.

Efforts to fight chronic absenteeism are gaining strength nationwide.
In October, the White House announced a new federal initiative,
Every Student, Every Day
, designed to call attention to the problem and help communities with solutions. The initiative aims to cut chronic absenteeism by 10 percent a year.
The Every Student Succeeds Act, a new federal education bill,
requires states to report chronic absenteeism rates for Title I schools
and allows districts to spend federal money on training to reduce absenteeism. The federal Title I program provides money to districts like CMSD that educate large numbers of disadvantaged children.