Return to Headlines
More than half of charters join compact
CMSD NEWS BUREAU
2/10/2016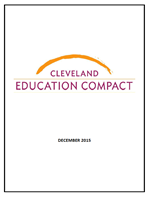 Download the Compact
Groups representing slightly more than half of Cleveland's 66 charter schools are willing to explore collaboration with CMSD in areas such as teacher training and the sharing of student records.
The groups – individual charter schools, networks or management organizations -- would work with the District through the new
Cleveland Education Compact
. CMSD and charter leaders
formed the compact
with a $100,000 planning grant from the Bill and Melinda Gates Foundation. Cleveland is one of 26 Gates Compact cities nationwide.
"We are very pleased with the response so far," said Stephanie Klupinski, the District's executive director of charter schools. "Many charters who are joining the compact are not sponsored by or partners with CMSD."
The District started sponsoring charters, which are privately managed public schools, in 2005. As a sponsor, CMSD receives a small share of the charters' state funding for administrative expenses and counts the students' test scores on state report cards.
The cooperation broadened three years ago with adoption of
The Cleveland Plan
, a citywide reform blueprint that calls for giving children the best possible education, regardless of the provider.
CMSD works with charter schools that meet standards for quality. The District sponsors 10 charters, with two more under consideration. The District partners with seven other charters and shares a slice of levy money with all 17.
A 12-member executive committee -- six representatives from the District and six from the charter sector -- will oversee the compact. A majority vote is required to make decisions, with at least three yes votes cast by charter representatives.
Charter schools and organizations had until Jan. 31 to join the compact. Those that didn't will get another chance each year during June.