Return to Headlines
Orchard students to get iPads
CMSD NEWS BUREAU
4/22/2016
Every student at Orchard STEM School – nearly 500 of them from preschool through eighth grade – will soon have an iPad tablet at his or her fingertips.
Orchard is one of 114 schools nationwide to
receive equipment from Apple
. The donation is part of the
White House's ConnectED initiative,
designed to ensure that children have access to and are skilled in using new technology.

Until now, the ratio of students to computers at Orchard, a problem-based school focused on science, technology, engineering and math, has been far from 1-to-1. In fact, it's more like 28-to-4.
"We are using what we have available," Principal Kathryn Francis said. "But this takes it to a whole new level."
Former Principal Mary Ann Knapp, who retired last year, and teachers Tamera Zelwin and Deborah Schmidt applied for the grant, which was available to schools where at least 96 percent of students qualified for free or reduced-price lunches. Zelwin, a math teacher, recalls rejoicing, even to the point of tears, when Knapp told her it had been approved.
Though students are not expected to receive their devices until October, teachers got some of their own during an orientation with Apple staff on Wednesday afternoon. To mark the occasion, the West Side school celebrated with sparkling grape juice and cake.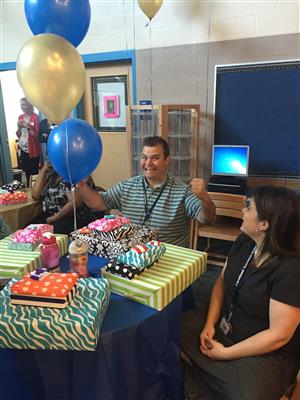 Orchard teachers will each have an iPad mini and MacBook Pro, and classrooms will be equipped with Apple TV, so both teachers and students can display their work. Apple will provide the staff with a total of 2 ½ weeks of training on use and three years of other support.

Once the initiative, which Orchard refers to as "Designing the Future Today," is fully in place, classrooms will feature what is called blended learning.

Francis said teachers will work directly with small groups of five to 10 students, while other children in the class collect data and solve problems with their devices. To prepare, students will study digital citizenship and be warned against cyber-bullying and other inappropriate behavior.

The new classroom approach will reflect the spirit of hands-on, problem-based learning. And Francis said teachers will have a chance to customize instruction to fit individual students.

The style requires teachers to serve more as guides and less as lecturers. Schmidt, a science teacher, said Orchard teachers recognize that technology is changing rapidly and that they must change with it.

Students will be the ultimate winners as they gain the skills needed to thrive in the modern economy.

"Our kids have to compete internationally," Zelwin said. "Why can't they have the same opportunity as children in other districts?"