Return to Headlines
Collinwood supplies space program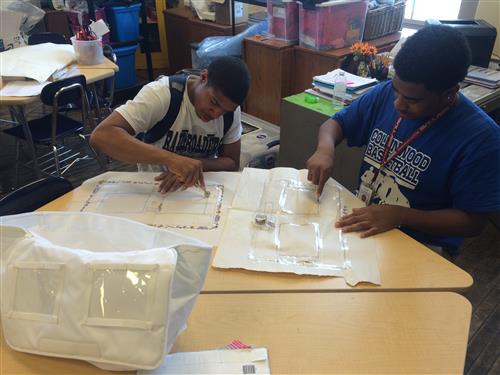 CMSD NEWS BUREAU
4/22/2016
Some Collinwood High School 10th-graders are supplying gear for crew of the International Space Station.
Students in teacher Rosalyn Allen's Fashion and Design make components for totes – officially known as cargo transfer bags – that astronauts can use to carry science experiments, food, clothing and other items.
It's part of the
High School Students United with NASA to Create Hardware
, or HUNCH, program that the space agency started 13 years ago.
Some schools actually make hardware, like the storage locker parts machined at the Medina County Career Center, one of three other participating Ohio sites. But Collinwood is a soft- goods supplier.
For now, the Collinwood-made components will become part of bags used in training. If the students stick with Fashion Design II and become more skilled with their product, the totes will end up aboard the space station.
"This is an ongoing project," said Allen, whose students began working part time on the bags a little less than two months ago. "We don't anticipate a stopping point."
The students cut strips for fasteners and plastic for pockets that they stitch onto the bag's nylon sides. They also attach D-shaped metal rings and sew in lining.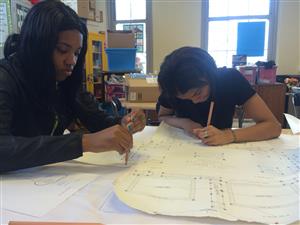 The 22 students feel a sense of purpose as they go about their work.
"We are only in the 10th grade, and we are making something that could go into outer space," said Chardajah Martin, an aspiring pediatrician who took the class for fun.
Bashonne Hemingway, a point guard on Collinwood's basketball team, yearns to play professionally or at least stay close to sports as a physical therapist. In the meantime, he takes pride in sewing for the space program.
"It counts as an accomplishment," he said. "I made a bag for someone who's doing something a lot of people don't get a chance to do."
Collinwood is one of CMSD's four New Tech Academies, part of
a national project-based network
that engages students with hands-on work. CMSD is a "portfolio district," offering students a variety of school options so they can choose the one that best fits their needs.
The tote project blends math, social studies and history. Students measure and cut material, but they also learn about a space station program that dates back 16 years and 46 expeditions and brings nations together in international cooperation.
NASA's Cleveland-based Glenn Research Center began participating in HUNCH two years ago and recruited Collinwood to the cause.
Glenn provided Collinwood with two industrial sewing machines and material and trained students to make components that meet the agency's standards.
The students learn about quality control, said Nancy Hall, an aerospace engineer and manager of the HUNCH project at Glenn. They also gain what could be an edge in the job market.
"This is great to put on a resume," Hall said. "This is something that benefits the space program and the astronauts."