Return to Headlines
Browns to install 5 CMSD fields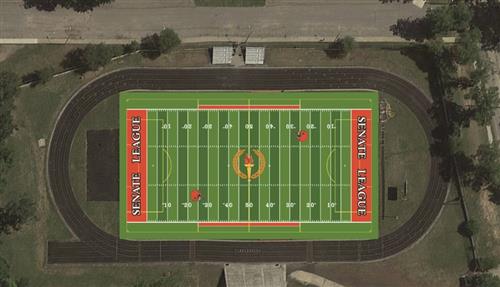 CMSD NEWS BUREAU
5/9/2016
The Cleveland Browns will install five synthetic turf football fields for CMSD, with work on the first two beginning this month.

All 10 Senate Athletic League high school teams will share the football fields. The fields also will be available to CMSD soccer teams and physical education classes and the youth teams of the Cleveland Muny Football League.

Team owners Jimmy and Dee Haslam, surrounded by Senate athletes, announced the multimillion-dollar donation Monday on the field at FirstEnergy Stadium. Scoreboard video showed the design -- "Senate League" spelled out in white letters in Browns-orange end zones, the league's torch symbol at midfield and Browns helmets at the 25-yard-lines.

The Haslams said the project was part of their efforts to make an impact in the community. They said they were inspired by CMSD Chief Executive Officer Eric Gordon's assertion that extracurricular activities motivate students to stay in school, work harder on their studies and graduate.

"We are firm believers in education," Jimmy Haslam said. "We believe it's best way to help young people."

Former Browns offensive lineman Roman Oben, now director of the NFL's youth and high school football program, was present for the announcement. He said he hoped to see other pro football teams follow the Browns' lead.

Work will begin immediately at John F. Kennedy's Roye Kidd Field and James Ford Rhodes Field. Those fields are to be ready for the 2016 season.

The other fields are John Adams, John Marshall and Bump Taylor Field, which is used by Glenville. John Adams and John Marshall are to be finished in 2017, while the Bump Taylor timeline has yet to be finalized.
Brecksville-based
SCG Fields
is overseeing design and construction of the fields. The company's resume includes work on the playing fields used by the Browns, Cleveland Indians, Pittsburgh Steelers, Denver Broncos and the New York Yankees.

Joshua Henderson, a junior quarterback and defensive end at JFK, said he is looking forward to playing on the high-quality turf.

"It's going to feel good, like a brand-new experience," he said. "Like the first time you ever stepped on the field."

John Hay junior wide receiver Jayvaughn Williams said the synthetic fields will be a major upgrade. He said the turf surface at the Collinwood Athletic Complex, developed by the city, "is the only go-to field we got."

Gordon joined Mayor Frank G. Jackson in expressing gratitude to the Haslams. The CEO thanked them for "supporting my kids on these fields and in the classroom."

The Browns, through the Cleveland Browns Foundation, are the lead partner in the District's "Get 2 School. You Can Make It!" attendance campaign.

The campaign, launched last July, seeks to reduce the number of students who miss 10 or more days in a school year. After the third grading period, the campaign was on a pace to reach its goal of reducing that figure by 10 percent.

The District will need to identify funding sources to replace stands and other facilities at John Marshall and build new at John Adams, which for now has only vacant land.

"A field is a good start," Gordon said. "But if we are going to give students what they deserve, we need to find a way to build stands and a press box."