Return to Headlines
CMSD names summer meal sites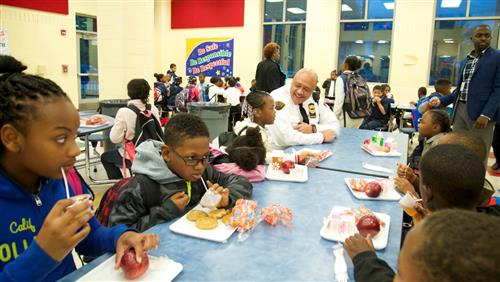 CMSD NEWS BUREAU
5/10/2016
CMSD has chosen 18 schools that will serve free breakfast, lunch or supper to children during June and July.

The new summer-meals initiative, announced last month, is designed to help families stay fed while schools on are summer break. Schools will serve the free meals Monday through Friday to any child age 18 and under, regardless of whether they are enrolled as District students.

Adults who accompany the children can eat for a small fee: $2.50 for breakfast and $4 for lunch or supper.

The Greater Cleveland Food Bank will act as a partner in the program, handling the program paperwork while the District takes care of operations. The U.S. Department of Agriculture will reimburse CMSD for the cost of the meals.

The plan could be the first step toward giving families access to three free or low-cost meals a day throughout the year, said Joseph Vaughn, CMSD's executive director of food and child nutrition services.

Four high schools – Max S. Hayes, Jane Addams, John Adams and the John Marshall – will serve breakfast from 8-9:30 a.m. and lunch from 11:45 a.m. to 1:30 p.m. from May 31 through July 8. The buildings will open an hour before breakfast.

Nine other schools will serve breakfast from 8 a.m. to 9:30 a.m. and lunch from 11 a.m. to 1 p.m. from June 1 until July 22. Those schools include Adlai E. Stevenson, Anton Grdina, Michael R. White, Walton, Marion-Sterling, Bolton, Hannah Gibbons, Wade Park and Luis Muñoz Marin.

Five schools will serve supper from 3 to 5 p.m. from June 1 through July 22. The schools are Harvey Rice, Miles Park, Joseph M. Gallagher, Garfield and Willson.