Return to Headlines
Attendance campaign reaches goal (video)
CMSD NEWS BUREAU
5/31/2016
According to final data for the 2015-16 school year, the proportion of students who missed 10 or more days of classes decreased 11 percent when compared with the average for the previous three years. The change is the equivalent of about 2,340 students.
The number of students missing more than 10 days had averaged 56.4 percent. The goal was to lower that by 10 percent.
The state consider students to be chronically absent when they miss 18 or more days. CMSD's chronic absenteeism rate decreased 6.3 percent.
The campaign promoted attendance on billboards and radio ads. Parents were encouraged to sign a pledge supporting the campaign. Chief Executive Officer Eric Gordon and local TV personalities joined in the AtTenDance social-media push.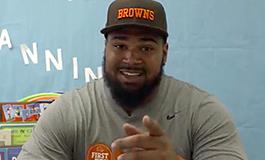 Community partners, led by the Cleveland Browns Foundations, were active in the cause. The foundation's many contributions included having players record phone calls and videos encouraging students to get to school every day. Among the key junctures were what were labeled "You Can Make It Days," when taking off might be especially tempting -- for example, just before or after a school break.
(Watch a video featuring defensive lineman John Hughes.)
Radio One donated surprise "pop-up parties" for schools that stood out in attendance. McDonald's franchisee
Herb Washington awarded 207 bicycles
to sixth-, seventh- and eighth-graders for attendance and academic achievement.
Dave's Markets put the campaign logo on its bags. Cuyahoga Metropolitan Housing Authority police attached magnetic bumper stickers to their cruisers. Cuyahoga Community College offered a full scholarship, based on grades and attendance, to one senior at each of the 28 high schools that had graduating classes.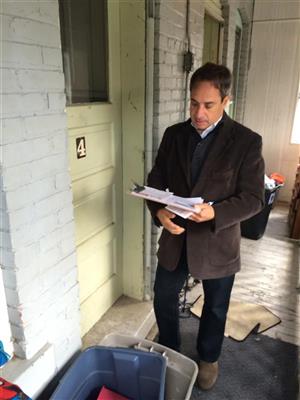 Individual schools offered gift cards and other incentives. Volunteers organized by CMSD t
ook the message door to door
in select neighborhoods and made phone calls to homes of students at risk of missing the target.
The District celebrated the success Wednesday at CMSD's East Professional Center, with Gordon and others thanking families, students principals, teachers, clergy and the long list of other partners. But last year was just the start, said the CEO.
"This isn't a one-year deal," he said. "We made progress, but there's more work to be done."
Schools across the country face problems with attendance. Last fall, the White House and federal agencies announced the
"Every Student, Every Day" initiative
to reduce chronic absenteeism. The effort promotes awareness of the problem and provides guidance to communities on finding solutions.
Chronic absenteeism is often defined as missing 10 percent of the school year, which in Ohio would total 18 days. Gordon has said that the District wanted to set a tougher standard.
CMSD's data shows that students who miss 10 or more days score an average of 12 points lower on state reading tests and 15 points lower on state math tests. They are 9 percent less likely to meet Ohio's Third Grade Reading Guarantee, which is required to earn promotion to fourth grade, and, in the case of high school students, are 34 percent less likely to graduate.
"The Cleveland school district realizes that poor attendance has a significant impact on student achievement," said Hedy Chang, executive director of
Attendance Works
, a national group that brings attention to the importance of school attendance.
"It did an impressive job of mobilizing its resources to launch a citywide campaign," she added. "The fact that the campaign has reached its goal is testimony to the dedication, hard work and innovation of the entire community and especially the top district leadership."